Lollipop Chainsaw: una cheerleader cacciatrice di zombie per l'ultima follia di Suda51 - guarda le immagini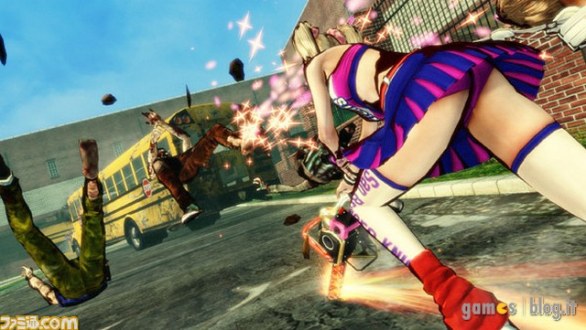 Dopo No More Heroes e Shadows of the Damned, quel genio visionario di Suda51 continua a sconvolgerci con l'annuncio di Lollipop Chainsaw, un survival horror (esatto, un survival horror) avente per protagonista la bionda Juliet, una cheerleader figlia di un'antica dinastia di cacciatori di zombie.
Il progetto, come spiegatoci dai colleghi di Famitsu, vede Goichi Suda nei panni di direttore creativo, Akira Yamaoka (Silent Hill) in quelli di supervisore del comparto sonoro e Masahiro Shidara (Fatal Frame-Project Zero) in quelli di produttore: l'aspetto principale del titolo, oltre all'avvenenza e agli ammiccamenti sessualmente espliciti di Juliet, sarà il modo in cui verranno rappresentati gli scontri con i non-morti, con l'utilizzo massivo del cel shading e con la sostituzione del sangue con degli insoliti fasci di luce rosa che proietteranno in aria cuoricini, stelline e amenità simili.
Speriamo quindi di avere al più presto nuove informazioni su Lollipop Chainsaw, a cominciare dalla data d'uscita su PS3 e X360: nell'attesa, vi lasciamo alle restanti immagini d'annuncio.
Lollipop Chainsaw: galleria immagini