[GamesCom 2011] Saints Row: The Third - trailer in cinematica e nuove immagini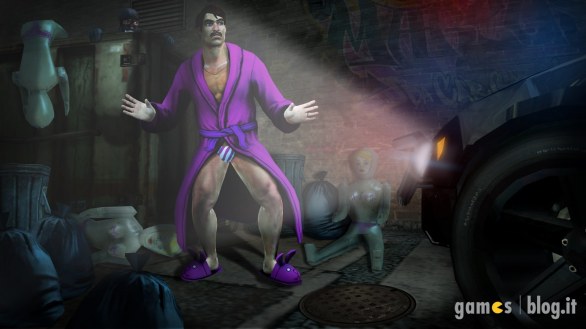 Il volo diretto Chicago-Colonia compiuto dai Volition per mostrare agli spettatori del GC '11 Saints Row: The Third giunge quest'oggi al suo approdo conclusivo attraverso una serie di immagini di gioco e un video dimostrativo dedicato al sistema di combattimento simil-Lucha Libre ideato dagli sviluppatori americani per movimentare il loro atipico action sandbox.
Al gameplay volutamente sopra le righe di un titolo che, tra le altre cose, ci consentirà di picchiare i passanti con un dildo di gomma (!!!) e di bombardarli subito dopo a bordo di un jet ultrasonico, bisogna infatti aggiungere il sistema di combattimento corpo a corpo completamente rivisto per integrare gli attacchi e le pose sceniche del wrestling "professionistico": a tutto questo bisogna poi aggiungere l'introduzione di un'apposita modalità cooperativa e di un meccanismo di crescita del personaggio e della sua gang legato ai progressi compiuti nelle missioni principali e negli obiettivi secondari.
L'appuntamento con Saints Row: The Third è previsto per il 18 novembre prossimo su PlayStation 3, PC e Xbox 360.
Saints Row: The Third - galleria immagini