Spider-Man: Edge of Time - nuove immagini dal PAX Prime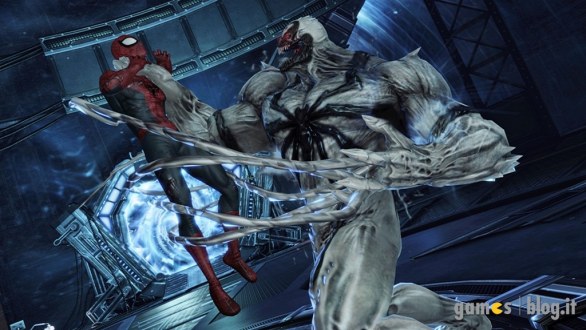 Non potendo assolutamente mancare al PAX Prime, i ragazzi di Beenox si presentano alla fiera videoludico-fumettistica di Seattle per regalarci una nuova serie di immagini di gioco di Spider-Man: Edge of Time.
Voluto da Activision per capitalizzare il discreto successo di Shattered Dimensions, questo Edge of Time sconvolgerà nuovamente il tessuto spazio-temporale per fondere la dimensione Marvel "classica" con quella cyberpunk del 2099 in un'avventura che, come potete facilmente intuire dagli scatti odierni, vedrà alternare Peter Parker e il suo futuro omologo Miguel O'Hara nella caccia allo scienziato pazzo Walker Sloan prima che quest'ultimo, con i suoi potenti e pericolosi gingilli tecnologici, riduca questa parte di universo in una poltiglia informe di materia destinata a collassare in un buco nero.
Previsto su PC, PS3, X360, Wii, 3DS e DS, Spider-Man: Edge of Time sarà disponibile a partire dal 4 ottobre prossimo.
Spider-Man: Edge of Time - galleria immagini