Modern Warfare 3: mostrati i contenuti della Hardened Edition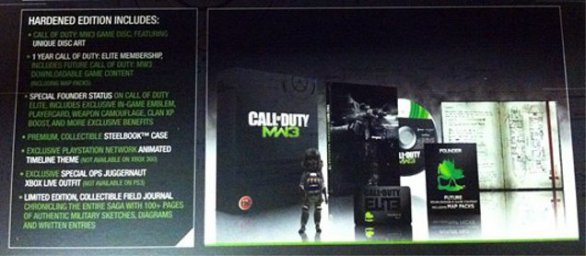 Wired ha postato un'immagine che ritrae la versione europea della Call of Duty: Modern Warfare 3 Hardened Edition, mostrando tutti gli extra speciali in essa contenuti.
Il bonus più interessante è sicuramente rappresentato dall'abbonamento premiun di un anno al servizio Call of Duty Elite, che attiva lo status di "Founder" accompagnato da emblemi, player card, mimetiche e boost dell'esperienza esclusivi.
Altri bonus includono lo steel case, un nuovo artwork sul disco, un tema PSN esclusivo, il costume "Special Ops Juggernaut" per l'Avatar Xbox 360 e un "field journal" di 100 pagine con schizzi e note dal fronte.