Saints Row: The Third - requisiti di sistema PC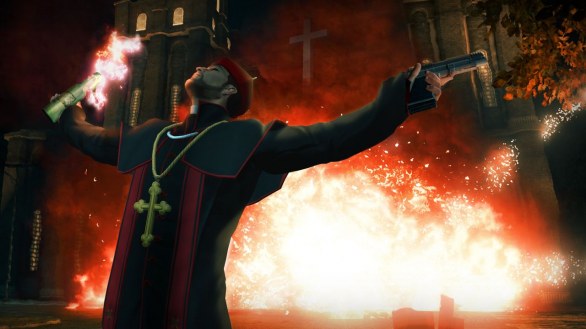 Saints Row: The Third è ormai in dirittura d'arrivo: il prossimo 18 novembre il gioco sviluppato da Volition giungerà infatti sugli scaffali anche in Italia, per tutte e tre le piattaforme sulle quali è previsto. Se i possessori di Xbox 360 e PlayStation 3 non devono preoccuparsi della loro configurazione per giocare, come al solito per gli utenti PC il discorso è diverso.
È quindi arrivato il momento di scoprire se il vostro sistema sarà in grado di far girare Saints Row: The Third senza patemi d'animo, grazie ai requisiti minimi e raccomandati pubblicati dagli sviluppatori. Partendo dai requisiti minimi, ci troviamo di fronte a nulla di particolarmente esoso, visto che si parla di un computer dotato di CPU 2GHz, con 2GB di RAM e scheda video con Shader Model 3.0 e 320MB di RAM.
Discorso un po' diverso per i requisiti raccomandati, che prevedono una CPU Quad Core (o Dual Core da 3.0GHz in su) con 4GB di RAM e scheda video da 1GB con Shader Model 4.0: nulla che possa far urlare allo scandalo in realtà, ma in alcuni casi potrebbe essere necessario un piccolo upgrade su macchine non proprio nuovissime. A voi la decisione, nel frattempo vi rimando a dopo il break per l'elenco completo dei requisiti.
Requisiti Minimi:
OS: Windows XP
CPU: 2GHz Dual Core (Intel Core 2 Duo o AMD Athlon X2)
RAM: 2GB
Scheda Video: 320MB Video RAM GPU con supporto Shader Model. NVIDIA GeForce 8800 / ATI Radeon HD3800
DirectX: 9.0c
Hard Drive: 10GB
Co-Op Play: NVIDIA GeForce 8800 con 640MB di RAM. ATI Radeon HD3800 con 1GB di RAM
Online Steam Account
Requisiti Raccomandati:
OS: Windows 7
CPU: Quad Core Processor (Intel Core i5 o AMD Phenom II X4) o 3.0+ Dual Core CPU
RAM: 4GB
Scheda Video: 1GB Video RAM con supporto Shader Model 4.0. NVIDIA GeForce GTX 400 o ATI Radeon HD5000
DirectX: 11
Via | CVG