Battlefield 3: tris di immagini di gioco dal DLC Back to Karkand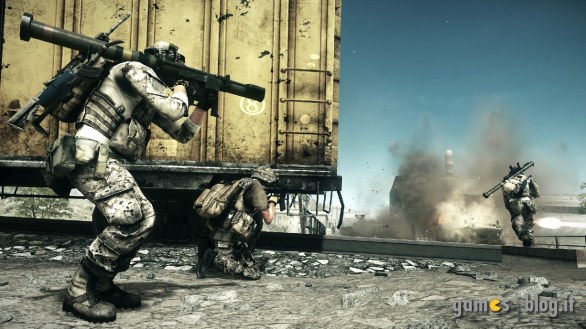 Per la guerra a distanza tra Battlefield 3 e Modern Warfare 3, i ragazzi di EA DICE decidono di giocarsi la carta dei contenuti aggiuntivi e di sganciare delle bombe a grappolo rappresentate dalle tre immagini di Back to Karkand che possiamo ammirare nella galleria multimediale odierna.
Disponibile entro la fine dell'anno su PC, X360 e PS3 (con quest'ultima versione in esclusiva temporale di una settimana), il DLC Back to Karkand proporrà le rivisitazioni delle mappe Strike at Karkand, Wake Island, Gulf of Oman e Sharqi Peninsula che hanno infuocato i server multiplayer di Battlefield 2, oltre a dieci armi inedite e a tre nuovi veicoli terrestri e aerei.
Back to Karkand potrà essere scaricato in via del tutto gratuita dagli acquirenti della Limited Edition di Battlefield 3, mentre per tutti gli altri sarà proposto al prezzo di 14,99€ o 1200 Punti Microsoft.
Battlefield 3: Back to Karkand - galleria immagini