Classifiche di vendita settimanali in Italia dal 12 al 18 dicembre 2011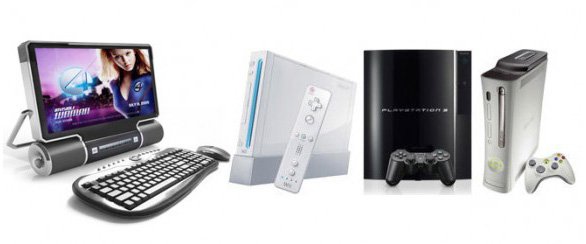 Eccoci al consueto appuntamento con le classifiche di vendita italiane settimanali condotte da GfK per conto di AESVI. Sulla top ten console di questa settimana troviamo stabile in vetta ancora Just Dance 3, mentre sul fronte PC ritroviamo il sempreverde The Sims 3, che nonostante gli anni sulle spalle a quanto pare è stato scelto da molti come regalo ideale per questo Natale 2011. Call of Duty: Modern Warfare 3 mantiene ancora un buon piazzamento, collezionando un secondo posto sia nella top 10 console che in quella PC.
Top 10 Console
1 JUST DANCE 3 WII UBISOFT
2 CALL OF DUTY MODERN WARFARE 3 PS3 ACTIVISION BLIZZARD
3 FIFA 12 PS3 ELECTRONIC ARTS
4 MARIO KART 7 3DS NINTENDO
5 PRO EVOLUTION SOCCER 2012 PS3 KONAMI
6 SUPER MARIO 3D LAND 3DS NINTENDO
7 CALL OF DUTY MODERN WARFARE 3 X-BOX 360 ACTIVISION BLIZZARD
8 MARIO & SONIC AI GIOCHI OLIMPICI LONDRA 2012 WII SEGA
9 MARIO KART + WII WHEEL WII NINTENDO
10 ASSASSIN'S CREED REVELATIONS PS3 UBISOFT
Top 10 PC
1 THE SIMS 3 PC ELECTRONIC ARTS
2 CALL OF DUTY MODERN WARFARE 3 PC ACTIVISION BLIZZARD
3 WORLD OF WARCRAFT PRE PAID CARD 2 MESI PC ACTIVISION BLIZZARD
4 STAR WARS THE OLD REPUBLIC PC ELECTRONIC ARTS
5 THE SIMS 3 ANIMALI & CO LIMITED EDITION PC ELECTRONIC ARTS
6 FOOTBALL MANAGER 2012 PC SEGA
7 FIFA 12 PC ELECTRONIC ARTS
8 ASSASSIN'S CREED REVELATIONS PC UBISOFT
9 BATTLEFIELD 3 PC ELECTRONIC ARTS
10 KING'S BOUNTY CROSSWORLDS PREMIUM PC FX INTERACTIVE
Continua dopo la pausa con le Top 10 per piattaforma.
Top 10 3DS
1 MARIO KART 7 NINTENDO
2 SUPER MARIO 3D LAND NINTENDO
3 SUPER POKEMON RUMBLE NINTENDO
4 ASPHALT 3D UBISOFT
5 COMBATTIMENTI FRA GIGANTI 3D UBISOFT
6 CUBIC NINJA UBISOFT
7 COOKING MAMA 4 KITCHEN MAGIC 505 GAMES
8 LEGEND OF ZELDA OCARINA OF TIME NINTENDO
9 NINTENDOGS + GOLDEN RETRIEVER & NUOVI AMICI NINTENDO
10 FIFA 12 ELECTRONIC ARTS
Top 10 DS
1 PROFESSOR LAYTON E IL RICHIAMO DELLO SPETTRO NINTENDO
2 NEW SUPER MARIO BROS NINTENDO
3 MARIO KART NINTENDO
4 POKEMON WHITE NINTENDO
5 POKEMON BLACK NINTENDO
6 ART ACADEMY NINTENDO
7 INAZUMA ELEVEN NINTENDO
8 CARS 2 DISNEY INTERACTIVE STUDIOS
9 COOKING MAMA WORLD IN CAMPEGGIO CON MAMA 505 GAMES
10 SUPER MARIO 64 DS NINTENDO
Top 10 PS2
1 PRO EVOLUTION SOCCER 2012 KONAMI
2 FIFA 12 ELECTRONIC ARTS
3 NEED FOR SPEED MOST WANTED ELECTRONIC ARTS
4 GRAND THEFT AUTO SAN ANDREAS PLATINUM ROCKSTAR GAMES
5 BLACK ELECTRONIC ARTS
6 NEED FOR SPEED CARBON ELECTRONIC ARTS
7 MEDAL OF HONOR VANGUARD ELECTRONIC ARTS
8 FIFA STREET 2 ELECTRONIC ARTS
9 NEED FOR SPEED UNDERCOVER ELECTRONIC ARTS
10 GRAND THEFT AUTO SAN ANDREAS ROCKSTAR GAMES
Top 10 PS3
1 CALL OF DUTY MODERN WARFARE 3 ACTIVISION BLIZZARD
2 FIFA 12 ELECTORNIC ARTS
3 PRO EVOLUTION SOCCER 2012 KONAMI
4 ASSASSIN'S CREED REVELATIONS UBISOFT
5 BATTLEFIELD 3 ELECTORNIC ARTS
6 UNCHARTED 3 L'INGANNO DI DRAKE SONY
7 NEED FOR SPEED THE RUN LIMITED EDITION ELECTORNIC ARTS
8 SPORTS CHAMPION + KIT MOVE SONY
9 GRAN TURISMO 5 PLATINUM SONY
10 THE ELDER SCROLLS V SKYRIM LAUNCH EDITION BETHESDA SOFT
Top 10 PSP
1 FIFA 12 ELECTRONIC ARTS
2 GERONIMO STILTON SONY
3 PRO EVOLUTION SOCCER 2012 KONAMI
4 CARS 2 DISNEY INTERACTIVE STUDIOS
5 INVIZIMALS LE TRIBÙ SCOMPARSE + CAM SONY
6 INVIZIMALS LE TRIBÙ SCOMPARSE SONY
7 ASSASSIN'S CREED II BLOODLINES UBISOFT
8 NEED FOR SPEED CARBON OWN THE CITY PLATINUM ELECTRONIC ARTS
9 GRAN TURISMO SONY
10 MEDIEVIL RESURRECTION ESSENTIALS SONY
Top 10 WII
1 JUST DANCE 3 UBISOFT
2 MARIO & SONIC AI GIOCHI OLIMPICI LONDRA 2012 SEGA
3 MARIO KART + WII WHEEL NINTENDO
4 NEW SUPER MARIO BROS NINTENDO
5 SKYLANDERS SPYRO'S ADVENTURE STARTER PACK ACTIVISION BLIZZARD
6 WII PLAY MOTION + WII REMOTE PLUS NINTENDO
7 WII PARTY NINTENDO
8 WII FIT PLUS + BALANCE BOARD NINTENDO
9 ZUMBA FITNESS + BELT 505 GAMES
10 WII FIT PLUS + BALANCE BOARD BLACK NINTENDO
Top 10 X-BOX 360
1 CALL OF DUTY MODERN WARFARE 3 ACTIVISION BLIZZARD
2 FIFA 12 ELECTRONIC ARTS
3 PRO EVOLUTION SOCCER 2012 KONAMI
4 ASSASSIN'S CREED REVELATIONS UBISOFT
5 KINECT ADVENTURES + KINECT MICROSOFT
6 KINECT ADVENTURES + KINECT THE GUNSTRINGER + KINECT FRUIT NI MICROSOFT
7 BATTLEFIELD 3 ELECTRONIC ARTS
8 FORZA MOTORSPORT 4 MICROSOFT
9 KINECT SPORTS STAGIONE 2 MICROSOFT
10 NEED FOR SPEED THE RUN LIMITED EDITION ELECTRONIC ARTS