Star Wars: The Old Republic entra nel Guinness dei Primati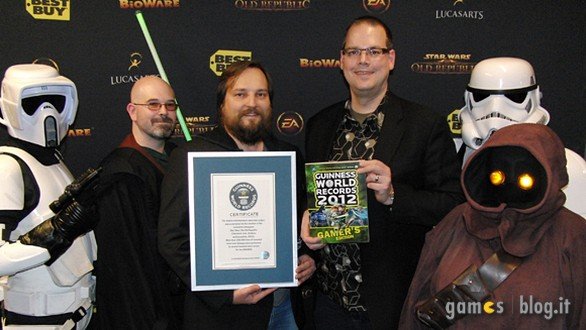 Nell'evento di fine anno organizzato a New York dai curatori del Guinness dei Primati, i cofondatori di BioWare Ray Muzyka e Greg Zeschuk hanno conseguito con Star Wars: The Old Republic il premio per l'opera d'intrattenimento con più dialoghi di tutti i tempi.
Le 200.000 linee di dialogo interpretate dai centinaia di attori che hanno prestato la loro voce in The Old Republic, infatti, non hanno pari nell'industria moderna dell'intrattenimento videoludico o cinematografico e danno il senso del lavoro ciclopico svolto dalla sussidiaria canadese di Electronic Arts per dare alla luce questo "mostro", giunto al suo primo milione di abbonati con una velocità sbalorditiva.
Sempre durante la cerimonia di premiazione di Star Wars: The Old Republic, lo staff del Guinness World Record ha celebrato l'evento stilando, per puro spirito di spettacolo e senza alcuna velleità oggettiva, la lista di quelli che possono essere considerati come i 10 più importanti videogiochi dedicati alla saga di Guerre Stellari. Curiosi di sapere chi ha vinto? Seguiteci dopo la pausa e lo scoprirete.
Star Wars: The Old Republic - i pianeti della galassia - galleria immagini
Guinness dei Primati 2012 - i videogiochi di Guerre Stellari più importanti della storia
1. Knights of the Old Republic
2. Lego Star Wars: The Complete Saga
3. X-Wing vs. Tie Fighter
4. Empire At War
5. Rogue Squadron
6. Jedi Outcast
7. Super Star Wars: The Empire Strikes Back
8. Republic Commando
9. Star Wars Arcade
10.The Force Unleashed II