Kingdoms of Amalur: Reckoning - svelati i requisiti di sistema minimi e raccomandati su PC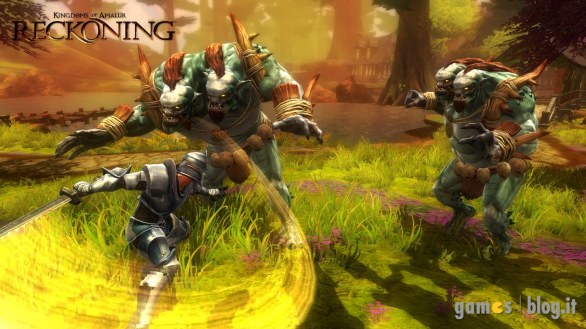 Manca un mese all'uscita di Kingdoms of Amalur: Reckoning, e così i 38 Studios hanno deciso di sciogliere ogni dubbio riguardante la versione PC del loro atteso gioco di ruolo diramando la doppia lista dei requisiti minimi e consigliati.
Come accade per la stragrande maggioranza dei progetti multipiattaforma con vista sulle console, anche Reckoning non richiederà ingenti risorse hardware per poter essere giocata: a chi vorrà lanciarsi nell'universo fantasy di Ken Rolston, infatti, basterà possedere una CPU dual core da 2.2 GHz, una scheda video con 512 MB di RAM e un singolo GB di RAM (ma solo su Windows XP: su Vista e Seven ne serviranno almeno 2).
Prima di lasciarvi, vi ricordiamo che Kingdoms of Amalur: Reckoning uscirà il 10 febbraio prossimo su Xbox 360, PlayStation 3 e, ça va sans dire, PC.
Kingdoms of Amalur: Reckoning - galleria immagini
Kingdoms of Amalur: Reckoning - requisiti di sistema PC
Minimi
Sistema operativo: Windows XP Service Pack 3 - Windows Vista Service Pack 2 - Windows 7 Service Pack 1
Processore: Intel Core2 Duo (o equivalente) con 2.2 GHz o superiore- AMD Athlon 64 X2 5000+ (o equivalente) con 2.6 GHz o superiore
Memoria: 1 GB di RAM su Windows XP - 2 GB di RAM su Windows Vista e Windows 7
Scheda video: NVIDIA GeForce 8800 GT 512 MB o superiore - ATI Radeon HD3650 512 MB o superiore
Hard disk: 10.5 Gb di spazio libero
Consigliati
Sistema operativo: Windows XP Service Pack 3 - Windows Vista Service Pack 2 - Windows 7 Service Pack 1
Processore: Intel Core 2 Quad (o equivalente) 2.4 GHz o superiore - AMD Phenom X4 (o equivalente) con 2.6 GHz o superiore
Memoria: 3 GB di RAM su Windows XP - 4 GB di RAM su Windows Vista e Windows 7
Scheda video: NVIDIA GeForce GTX260 1 GB RAM o superiore - ATI Radeon HD4850 1 GB RAM o superiore
Hard disk: 10.5 Gb di spazio libero