Diablo III: dettagli sulla Collector's Edition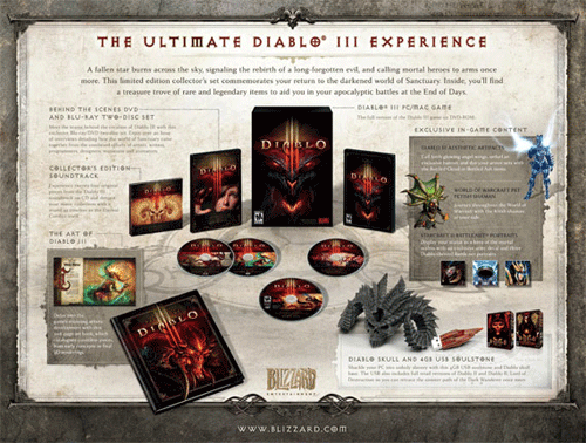 Il rivenditore inglese Game ha pubblicato nel suo sito i dettagli per la versione Collector's Edition di Diablo III, denominata "The Ultimate Diablo 3 Experience". Ne riportiamo i dettagli:
Diablo 3 PC/Mac


DVD e 2 Blu-Ray dietro le quinte


Colonna sonora


Artbook " The Art of Diablo 3"


Action figure "Diablo Skull"


Chiave USB Soulstone da 4GB


Diablo 3 Aesthetic Artifacts (contenuto di gioco)


World of Warcraft pet (contenuto di gioco)


Starcraft 2 Battlenet Portraits (contenuto di gioco)


4 mesi gratuiti di World of Warcraft (se giocatore dal 18 ottobre 2010 o precedente)
Tutto questo è proposto a un prezzo di 70 sterline, ovverosia circa 80€. Diablo III dovrebbe uscire entro la fine della primavera, ma ormai non ci stupiremmo più di nessun ulteriore rinvio.