Kingdoms of Amalur: Reckoning - annunciata la seconda espasione Teeth of Naros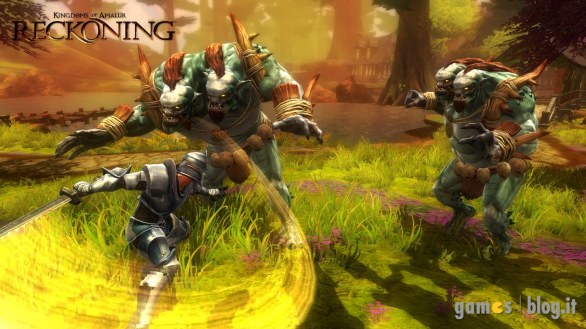 EA e Big Huge Games hanno annunciato ufficialmente Teeth Of Naros, seconda espansione scaricabile per Kingdoms of Amalur: Reckoning.
  

«I giocatori potranno attraversare in un epico viaggio una terra dimenticata denominata Teeth of Naros, una landa desolata che prende il nome da una divinità Troll. Nel loro viaggio incontreranno la razza dei Kollossae, una specie di giganti devoti, e ne sveleranno il destino»
Il contenuto scaricabile Teeth of Naros contiene:

Una nuova città – Esplora la città di Idylla, che galleggia magicamente nel cielo sopra la landa di Teeth
of Naros e le più di venti missioni secondarie, molti dungeon e una nuova razza di abitanti.


Nuovi nemici e dungeon – I giocatori prenderanno parte a un crogiolo di fede e tribolazione contro nuovi pericoli e nemici nel loro viaggio attraverso cinque enormi sotterranei.


Nuovi Twists of Fate e nuovi oggetti in game – Tre nuove card Twists of Fate, 9 set di armatura inediti, 6 nuovi scudi e 18 nuove armi uniche saranno a disposizione dei giocatori per questa avventura.
Teeth of Naros sarà disponibile a partire dal 17 Aprile su Xbox Live, PlayStation Network, Origin e Steam.