The Last Remnant - un nuovo RPG di Square Enix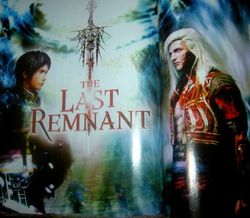 Apparentemente, Square Enix sente il bisogno di giochi più adatti al mercato occidentale. Sta quindi realizzando un nuovo RPG a turni chiamato The Last Remnant, per cui prevede persino un'uscita contemporanea giappo-americana.
Al timone c'è Hiroshi Takai, già regista del mediocre Bouncer.
Il motore 3d utilizzato sarà l'Unreal Engine 3, quindi dimenticatevi il Wii e date per scontate le versioni Xbox 360 e Ps3.
Remnant permetterà di scegliere tra due protagonisti: Rush, che è il classico eroe Square e The Conqueror, che è invece un antieroe di quelli che piacciono a noi occidentali (sic).
Su Siliconera trovate l'intera trascrizione dell'articolo di GameInformer sul gioco. Pare ci fossero anche degli screenshot che però non riesco a trovare. Magari li si aggiunge dopo.
I colleghi di VidaExtra hanno recuperato le foto.
[via Joystiq]