Spec Ops: The Line - le prime missioni della campagna in 200 immagini di gioco (parte 2)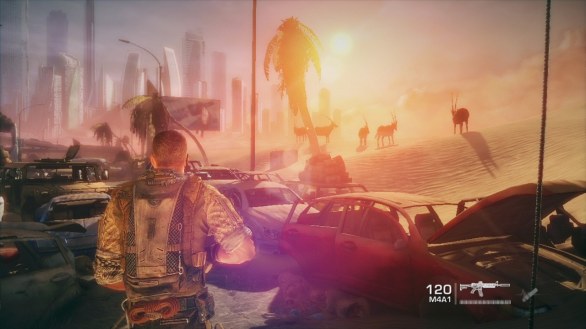 Come promesso, ritorniamo virtualmente tra le infuocate dune del deserto di Dubai per continuare il nostro "mini-speciale" su Spec Ops: The Line e offrirvi la seconda e ultima parte della galleria immagini dedicata ai primi capitoli della campagna a giocatore singolo.
Incentrata sulla carismatica figura del capitano della Delta Force britannica Martin Walker, l'avventura in singolo di questo nuovo episodio della saga sparatutto di Spec Ops si caratterizza per la presenza di ambientazioni modificabili ("merito" della sabbia che preme sulle vetrate e sui pilastri dei grattacieli semisepolti di Dubai), di un sistema di gestione tattica dei restanti membri della squadra e di una trama suscettibile alle azioni compiute dal protagonista e dai suoi uomini per salvare gli uomini, civili e militari, tenuti in ostaggio da una pericolosa cellula terroristica insediatasi nell'area approfittando del caos derivato, appunto, dalla tempesta di sabbia.
A questo punto, non ci resta che salutarvi ricordando a chi ci segue che l'uscita di Spec Ops: The Line è prevista per l'ormai imminente 29 giugno su PC, PlayStation 3 e Xbox 360.
Spec Ops: The Line - galleria immagini