Guitar Hero 3: svelate sette nuove canzoni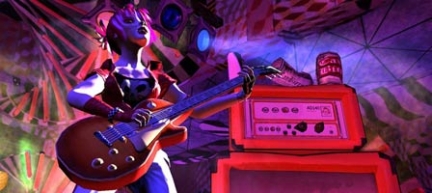 Dopo i quattro della scorsa settimana, sono stati svelati sette nuovi brani per Guitar Hero 3, che secondo le ultime notizie verrà mostrato fra un paio di settimane all'Interactive Festival di Edimburgo :
* AFI - Miss Murder (Master)
* Black Sabbath - Paranoid (non master... mannagg!)
* Blue Oyster Cult - Cities on Flame
* Mountain - Mississippi Queen
* Queens of the Stone Age - 3's and 7's (Master)
* Slayer - Raining Blood (Master) (!)
* The Strokes - Reptilia (Master)
La curiosità è che "Paranoid", "Mississippi Queen", e "Reptilia" sono state confermate anche su Rock Band, con l'unica differenza che solo "Reptilia" è in versione master originale. Lentamente si stanno avverando le previsioni secondo le quali i due franchise rischiano di diventare praticamente gemelli.
Mentre aspetto ancora l'arrivo di canzoni di Led Zeppelin e AC/DC, vi ricordo le 19 canzoni già svelate in precedenza:
* Dragonforce - Through the Fire and Flames (Master)
* Iron Maiden - Number of the Beast (Master)
* Red Hot Chili Peppers - Suck My Kiss (Master)
* ZZ Top - La Grange
* Alice Cooper - School's Out
* Beastie Boys - Sabotage (Master)
* Foghat - Slowride
* Guns N' Roses - Welcome to the Jungle (Master)
* Heart - Barracuda
* Kiss - Rock N Roll All Nite
* Living Colour - Cult of Personality (Master)
* Muse - Knights of Cydonia (Master)
* Pearl Jam - Evenflow (Master)
* Priestess - Lay Down (Master)
* Rolling Stones - Paint it, Black (Master)
* Smashing Pumpkins - Cherub Rock (Master)
* Tenacious D - The Metal (Master)
* The Scorpions - Rock You Like a Hurricane
* Weezer - My Name is Jonas (Master)