Steam Summer Sale giorno #7: S.T.A.L.K.E.R. Collection a 8,44€ e tanti titoli sotto i 3€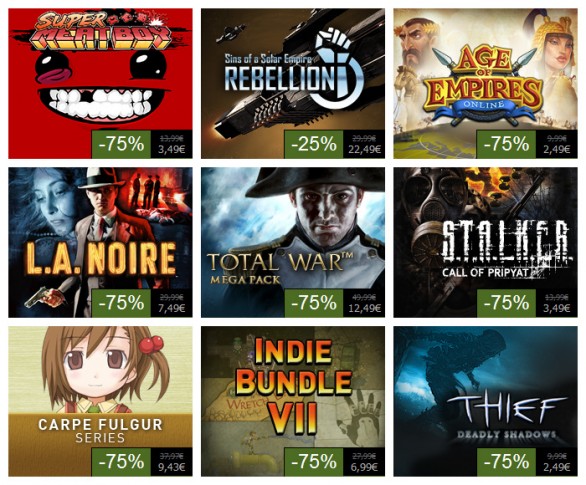 Steam rinnova anche per quest'anno la sua tradizionale svendita estiva con un periodo di saldi della durata di 10 giorni, dal 12 al 22 luglio. Le offerte del giorno #7 saranno valide fino le 7 di domani mattina ora italiana e comprendono 9 titoli scontati dal 25% al 75%.
Tra i titoli di oggi troviamo S.T.A.L.K.E.R. Collection (8,44€), un bundle che in meno di 10 euro racchiude tutti i capitoli dell'ottimo FPS degli ucraini di GSC, ossia Shadown of Chernobyl (2,49€) e i successivi Clear Sky (2,49€) e Call of Pripyat (3,49€), tutti acquistabili anche separatamente per pochi spiccioli.
Il resto dell'offerta comprende Thief Collection (6,74€), L.A. Noire (7,49€), Sins of a Solar Empire: Rebellion (22,49€), Super Meat Boy (3,49€), Age of Empires Online: Summer Sale Bundle (2,49€), Carpe Fulgur Collection (9,43€), Total War Mega Pack (12,49€) e il settimo Indie Bundle (6,99€) che include Avadon: The Black Fortress, Dungeons of Dredmor, Q.U.B.E., Vessel e Zombie Driver.
Oltre agli sconti giornalieri ci sono anche i Pack Deals, grandi sconti su collezioni tematiche che si protrarranno invece fino al 23 luglio, consultabili su questa pagina.