Hexic 2 e Ecco the Dolphin domani su XBLA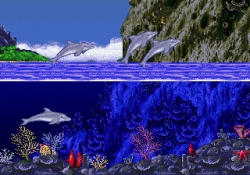 Come preannunciato durante lo scorso E3 di Santa Monica, Hexic 2 e Ecco the Dolphin raggiungeranno Xbox Live Arcade, e lo faranno nella giornata di domani. Mentre Hexic 2 è un gioco originale e creato appositamente per XBLA, Ecco the Dolphin è una vecchia gloria del passato targata SEGA che ha avuto una discreta fortuna su Mega Drive, riproposto con grafica e sonoro aggiornati. Delfino curioso!
Nessun prezzo è stato ancora svelato, ma è stato confermato che presto arriveranno anche gli altri due titoli annunciati in occasione dell'E3, cioè Streets of Rage 2 e Sonic the Hedgehog 2.