Guitar Hero 3 in demo con Tony Hawk e su XBL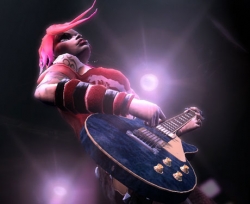 Guitar Hero III: Legends of Rock avrà una demo che uscirà tramite due canali: prima sarà distribuita il 9 ottobre con il DVD del gioco Tony Hawk's Proving Ground, e poi, due settimane dopo, farà la sua comparsa su Xbox Live. Questa bizzarra iniziativa è data dal fatto che lo sviluppo di questo terzo capitolo è stato affidato da Neversoft, software house storica che ha creato la serie Tony Hawk nel 1999.
Ecco le canzoni presenti nel demo (dopo la pausa):
* "Lay Down" by Priestess
* "Even Flow" by Pearl Jam
* "The Metal" by Tenacious D (dovete ADORARLA, NdDavid)
* "Hit Me With Your Best Shot" by Pat Benatar
* "Rock You Like a Hurricane" by the Scorpions
Visto che non c'è nessuna possibilità che io compri Tony Hawk's Proving Ground, specialmente con SKATE in giro, direi che l'appuntamento è fissato per il 23 ottobre su Xbox Live. Ma per PlayStation 3? Niente? Mah.