Army of Two: The Devil's Cartel - primo video-diario di sviluppo e nuove immagini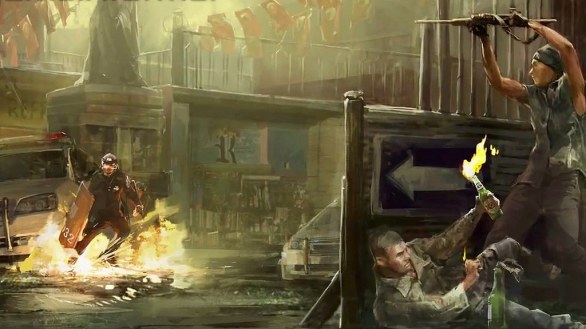 Dalle pagine di Game Informer, i ragazzi di Visceral Games ci regalano il primo video-diario di sviluppo, un artwork e delle immagini di gioco di The Devil's Cartel, il terzo atto della saga di Army of Two.
Voluto fortemente da EA per dare alla serie la possibilità di evolversi manifestando appieno le proprie potenzialità cooperative in larga parte ancora inespresse, The Devil's Cartel tenterà di rafforzare gli elementi "collaborativi" del gameplay dei precedenti episodi con l'introduzione di un profondo sistema di personalizzazione e di decine di nuove "azioni congiunte" da compiere assieme al proprio compagno di squadra (sia in rete che in split-screen) per raggiungere aree altrimenti inaccessibili, per ricavare barriere dagli oggetti mobili dello scenario o anche solo per rendere più difficile la vita dei cattivoni di turno: per farsi un'idea di quali forme potrà assumere l'avventura, basti osservare la scenetta nell'artwork ad inizio articolo in cui un criminale a volto scoperto copre il suo amico mentre quest'ultimo prepara delle bottiglie incendiarie.
Prima di lasciarvi alle restanti immagini in galleria e al video-diario di cui sopra, cogliamo l'occasione per ricordarvi che Army of Two: The Devil's Cartel è previsto in uscita a marzo su PlayStation 3 e Xbox 360.
Army of Two: The Devil's Cartel - galleria immagini