Xfire a quota 8 milioni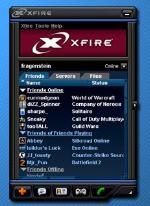 Xfire, il sistema di istant-messaging di Viacom per giocatori, arriva a quota 8 milioni di utenti* e tanto per festeggiare rilascia un po' di dati sui giochi giocati dai suoi utenti.
Oddio, niente di inaspettato: dominano la classifica ovviamente World of Warcraft, Call of Duty 2 e Counter-Strike: Source.
* Vale la pena notare che Microsoft dichiara circa 7 milioni di utenti attivi per il suo Xbox Live. Se Xfire conteggia qualsiasi utente che abbia scaricato il programma e creato un account allora sono contato anche io, che almeno 2-3 anni fa ho creato un account e poi me ne sono completamente dimenticato.
[via Kotaku]