Call of Duty 2 - Ancora Nuove Immagini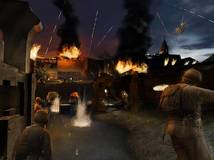 Ok, sembrano photoshoppate a morte (in particolare le esplosioni). Comunque molto belle queste nuove immagini di Call of Duty 2. Dal gioco mi aspetto molto, non mi capita spesso di non trovare in un gioco difetti che vorrei vedere corretti nel suo seguito. La verità, é che non credo sia possibile fare meglio di Call of Duty, nel suo genere. E forse non é nemmeno così importante.

Per farvi un'idea, vi consiglio di dare un'occhiata al video del gioco, nel caso non lo abbiate già fatto. Il link qui, oltre ad altre immagini niente male. Previsto per Xbox 360 e Pc. Per il resto lascio parlare le immagini.