Gli dei di Zul'Aman: nuovo raid per World of Warcraft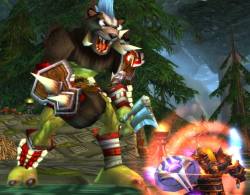 Onyxia la uccidete da soli? Kahrazan vi fa un baffo? Se i vostri personaggi di livello 70 iniziano a rigirarsi i pollici sarete contenti di sapere che Blizzard sta lavorando ad una nuova patch che include un nuovo raid a base di Troll. Gods of Zul'Aman è un raid per 10 persone in cui dovrete affrontare ben sei dività troll e nientemeno che Zul'Jin, che se non ricordo male era uno degli eroi di Warcraft II.
Buona notizia anche per i nuovi giocatori e per chi intende creare un secondo (o terzo) personaggio: la nuova patch aumenta i punti esperienza per ogni quest, rendendo più veloce l'approdo al sessantesimo livello.