Rock Band: prezzi e date dei DLC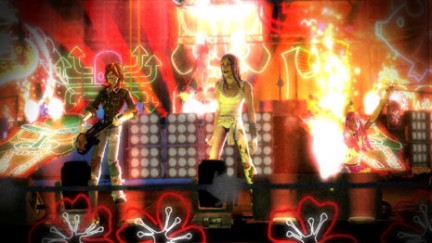 Come abbiamo capito da tempo, uno dei punti di forza di Rock Band saranno la marea di contenuti aggiuntivi scaricabili. Electronic Arts e Harmonix hanno rilasciato l'elenco dei primi contenuti pianificati con rispettivi prezzi.
In linea di massima, le singole canzoni costeranno ognuna 1,99$ ognuna, mentre le raccolte 5,49$. A queste regole si affiancheranno anche alcune eccezioni: alcune canzoni singole potranno costare 0,99$ (quelle più sconosciute) e altre fino a 2,99$ in caso di gruppi solitamente attaccati al soldo (un potenziale nome a caso: Metallica).
Volendo utilizzare questi brani online, è necessario che ogni giocatore partecipante alla sessione li abbia comprati.
Ecco la lista (con * si contrassegna una cover):
Settimana del 20 novembre 2007:
Metallica Pack
# "Ride the Lightning"
# "Blackened"
# "And Justice for All"
The Police Pack
# "Can't Stand Losing You"
# "Synchronicity II"
# "Roxanne"
Queens of the Stone Age Pack
# "3's and 7's"
# "Little Sister"
# "Sick Sick Sick"
Tracce singole
# "Fortunate Son" -- Creedence Clearwater Revival *
# "Juke Box Hero" -- Foreigner *
# "Bang a Gong (Get It On)" -- T-Rex *
# "My Sharona" -- The Knack *
# "Cherry Bomb" -- The Runaways *
# "Joker & The Thief" -- Wolfmother
Settimana del 27 novembre 2007:
David Bowie Pack
# "Moonage Daydream"
# "Heroes" *
# "Queen Bitch" *
Settimana del 4 dicembre 2007
Black Sabbath Pack
# "N.I.B." *
# "Sweet Leaf" *
# "War Pigs" *
Settimana dell'11 dicembre 2007
Punk Pack:
# "Rockaway Beach" -- Ramones
# "I Fought the Law" -- The Clash
# "Ever Fallen In Love"-- Buzzcocks *
Settimana del 18 dicembre 2007
Individual Tracks
# "My Iron Lung" -- Radiohead
# "Buddy Holly" -- Weezer
# "Brass in Pocket" -- Pretenders *