Classifiche di vendita settimanali in Italia dal 1 al 7 aprile 2013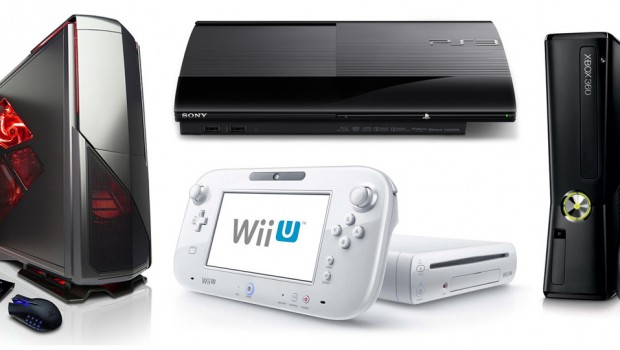 Da GfK e AESVI, eccovi le consuete classifiche di vendita italiane per tutte le piattaforme videoludiche sul mercato.
Ed eccoci anche questa settimana al momento riservato all'appuntamento con le classifiche di vendita italiane settimanali condotte da GfK per conto di AESVI. Ancora una volta, classifiche piuttosto movimentate, almeno per quanto riguarda la parte console: con un colpo di coda, FIFA 13 riconquista la vetta dopo mesi di assenza, forse spinto dalla fase finale della Champions League. Su PC invece rimane stabile SimCity, con StarCraft II: Heart of the Swarm e lo stesso FIFA 13 che seguono a ruota.
Top 10 Console
1 FIFA 13 PS3 ELECTRONIC ARTS
2 JUST DANCE 4 WII UBISOFT
3 LUIGI'S MANSION 2 3DS NINTENDO
4 CALL OF DUTY BLACK OPS II PS3 ACTIVISION BLIZZARD
5 ASSASSIN'S CREED III D1 VERSION PS3 UBISOFT
6 GOD OF WAR ASCENSION PS3 SONY
7 TOMB RAIDER PS3 SQUARE ENIX
8 FIFA 13 X-BOX 360 ELECTRONIC ARTS
9 ASSASSIN'S CREED III D1 VERSION X-BOX 360 UBISOFT
10 NEW SUPER MARIO BROS 2 3DS NINTENDO
Top 10 PC
1 SIMCITY LIMITED EDITION PC ELECTRONIC ARTS
2 STARCRAFT II HEART OF THE SWARM PC ACTIVISION BLIZZARD
3 FIFA 13 PC ELECTRONIC ARTS
4 WORLD OF WARCRAFT PRE PAID CARD 2 MESI PC ACTIVISION BLIZZARD
5 THE SIMS 3 UNIVERSITY LIMITED EDITION PC ELECTRONIC ARTS
6 THE SIMS 3 REFRESH PC ELECTRONIC ARTS
7 CALL OF DUTY MODERN WARFARE 3 PC ACTIVISION BLIZZARD
8 FOOTBALL MANAGER 2013 PC SEGA
9 BATTLEFIELD 3 PC ELECTRONIC ARTS
10 TOMB RAIDER PC SQUARE ENIX
Continua dopo la pausa con le singole classifiche per ogni console.
Top 10 3DS
1 LUIGI'S MANSION 2 NINTENDO
2 NEW SUPER MARIO BROS 2 NINTENDO
3 MARIO KART 7 NINTENDO
4 SUPER MARIO 3D LAND NINTENDO
5 FIFA 13 ELECTRONIC ARTS
6 PAPER MARIO STICKER STAR NINTENDO
7 ONE PIECE UNLIMITED CRUISE SP 2 NAMCO
8 MARIO TENNIS OPEN NINTENDO
9 MONSTER HUNTER 3 ULTIMATE CAPCOM
10 NEW STYLE BOUTIQUE NINTENDO
Top 10 DS
1 POKEMON VERSIONE NERA 2 NINTENDO
2 POKEMON VERSIONE BIANCA 2 NINTENDO
3 NEW SUPER MARIO BROS NINTENDO
4 MARIO KART NINTENDO
5 INAZUMA ELEVEN 2 FIRESTORM NINTENDO
6 INAZUMA ELEVEN 2 BLIZZARD NINTENDO
7 MARIO PARTY NINTENDO
8 SUPER MARIO 64 DS NINTENDO
9 THE SIMS 3 ELECTRONIC ARTS
10 LEGO PIRATI DEI CARAIBI DISNEY INTERACTIVE STUDIOS
Top 10 PS2
1 FIFA 13 ELECTRONIC ARTS
2 PRO EVOLUTION SOCCER 2013 KONAMI
3 GRAND THEFT AUTO SAN ANDREAS ROCKSTAR GAMES
4 NEED FOR SPEED CARBON ELECTRONIC ARTS
5 BATTLEFIELD 2 MODERN COMBAT ELECTRONIC ARTS
6 MEDAL OF HONOR VANGUARD ELECTRONIC ARTS
7 NEED FOR SPEED MOST WANTED ELECTRONIC ARTS
8 GRAND THEFT AUTO VICE CITY STORIES ROCKSTAR GAMES
9 BLACK ELECTRONIC ARTS
10 GRAND THEFT AUTO LIBERTY CITY STORIES ROCKSTAR GAMES
Top 10 PS3
1 FIFA 13 ELECTRONIC ARTS
2 CALL OF DUTY BLACK OPS II ACTIVISION BLIZZARD
3 ASSASSIN'S CREED III D1 VERSION UBISOFT
4 GOD OF WAR ASCENSION SONY
5 TOMB RAIDER SQUARE ENIX
6 ONE PIECE PIRATE WARRIORS NAMCO
7 BIOSHOCK INFINITE 2K GAMES
8 NARUTO SHIPPUDEN ULTIMATE NINJA STORM 3 D1 NAMCO
9 CRYSIS 3 LIMITED HUNTER EDITION ELECTRONIC ARTS
10 GRAN TURISMO 5 ACADEMY EDITION SONY
Top 10 PSP
1 FIFA 13 ELECTRONIC ARTS
2 GRAN TURISMO ESSENTIALS SONY
3 ASSASSIN'S CREED II BLOODLINES UBISOFT
4 PRO EVOLUTION SOCCER 2013 KONAMI
5 FIFA STREET 2 PLATINUM ELECTRONIC ARTS
6 GRAND THEFT AUTO LIBERTY CITY STORIES ROCKSTAR GAMES
7 MEDIEVIL RESURRECTION ESSENTIALS SONY
8 ASSASSIN'S CREED II BLOODLINES ESSENTIALS UBISOFT
9 GOD OF WAR GHOST OF SPARTA ESSENTIALS SONY
10 GRAND THEFT AUTO VICE CITY STORIES ROCKSTAR GAMES
Top 10 PS Vita
1 FIFA 13 ELECTRONIC ARTS
2 ASSASSIN'S CREED III LIBERATION UBISOFT
3 SLY COOPER LADRI NEL TEMPO SONY
4 PLAYSTATION ALL STARS BATTLE ROYALE SONY
5 NEED FOR SPEED MOST WANTED LIMITED EDITION ELECTRONIC ARTS
6 FIFA FOOTBALL ELECTRONIC ARTS
7 CALL OF DUTY BLACK OPS II ACTIVISION BLIZZARD
8 UNCHARTED L'ABISSO D'ORO SONY
9 LITTLEBIGPLANET SONY
10 MODNATION RACERS + MEMORY CARD 16 GB SONY
Top 10 WII
1 JUST DANCE 4 UBISOFT
2 FIFA 13 ELECTRONIC ARTS
3 NEW SUPER MARIO BROS NINTENDO
4 SKYLANDERS GIANT STARTER PACK ACTIVISION BLIZZARD
5 JUST DANCE 3 UBISOFT
6 WII SPORTS RESORT SELECTS NINTENDO
7 ONE PIECE UNLIMITED CRUISE 2 NAMCO
8 SUPER MARIO GALAXY SELECTS NINTENDO
9 WII PLAY MOTION + WII REMOTE PLUS NINTENDO
10 WII SPORTS NINTENDO SELECTS NINTENDO
Top 10 WII U
1 LEGO CITY UNDERCOVER LIMITED EDITION NINTENDO
2 NEW SUPER MARIO BROS NINTENDO
3 MONSTER HUNTER 3 ULTIMATE CAPCOM
4 ASSASSIN'S CREED III UBISOFT
5 ZOMBIU UBISOFT
6 FIFA 13 ELECTRONIC ARTS
7 SPORTS CONNECTION UBISOFT
8 NEED FOR SPEED MOST WANTED ELECTRONIC ARTS
9 JUST DANCE 4 UBISOFT
10 LEGO CITY UNDERCOVER NINTENDO
Top 10 X-BOX 360
1 FIFA 13 ELECTRONIC ARTS
2 ASSASSIN'S CREED III D1 VERSION UBISOFT
3 CALL OF DUTY BLACK OPS II ACTIVISION BLIZZARD
4 GEARS OF WAR JUDGMENT MICROSOFT
5 TOMB RAIDER SQUARE ENIX
6 BIOSHOCK INFINITE 2K GAMES
7 CRYSIS 3 LIMITED HUNTER EDITION ELECTRONIC ARTS
8 KINECT ADVENTURES + KINECT MICROSOFT
9 NARUTO SHIPPUDEN ULTIMATE NINJA STORM 3 D1 NAMCO
10 GTA 4 GRAND THEFT AUTO CLASSIC ROCKSTAR GAMES