Metal Gear Rising: Revengeance - svelata la collector's edition giapponese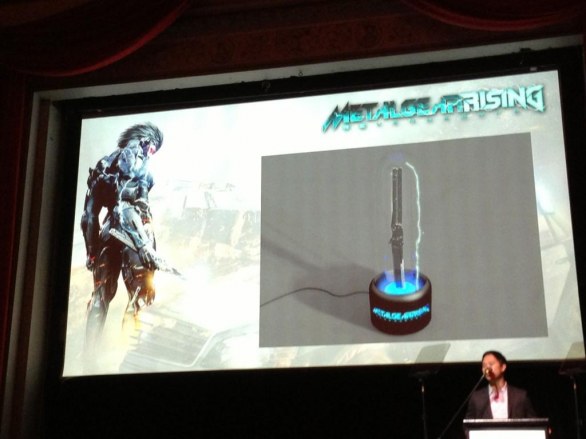 Durante l'evento Gamer's Night di San Francisco Konami ha annunciato, oltre alla limited edition di Zone of the Enders HD Collection, anche l'edizione per collezionisti di Metal Gear Rising: Revengeance.
Tale confezione è attualmente prevista per il mercato giapponese (quindi solo per PS3 dal momento che la versione Xbox 360 del gioco è stata cancellata recentemente) e prevederà al suo interno la copia del gioco, uno Steelbook, la colonna sonora e, udite, udite, una lampada al "plasma ad alta frequenza". Come potete vedere dall'immagine, il bizzarro gadget raffigura la katana di Raiden conficcata in una base luminosa, con tanto di raggi elettrici...
Metal Gear Rising: Revengeance sarà disponibile nei negozi europei dal 21 febbraio 2013 su PlayStation 3 e Xbox 360. Rimanete sulle nostre pagine per maggiori informazioni e conferme relative alla collector's edition per il vecchio continente.
Metal Gear Rising: Revengeance - la \\
via | Gematsu