FIFA 19 Ultimate Team: svelati i 23 giocatori Ones to Watch
EA Sports presenta le 23 carte giocatore FUT di FIFA 19 con i protagonisti dell'ultima sessione di calciomercato
Electronic Arts pubblica sui propri canali social un nuovo video di FIFA 19 per presentarci le 23 carte giocatore Ones to Watch di FIFA Ultimate Team con cui vengono celebrati gli atleti protagonisti dell'ultima sessione di calciomercato.
Suddivisa tra titolari, panchinari e riserve "in tribuna", la rosa di campioni confezionata da EA Sports è dominata dalle stelle acquistate dai club della Premier League e della Serie A nel corso di questa estate, con un podio tutto "italiano" composto da Cristiano Ronaldo (dal Real Madrid alla Juve), Gonzalo Higuain (dalla Juve al Milan) e Radja Nainggolan (dalla Roma all'Inter).
Una volta ottenute, le carte Ones to Watch di FIFA 19 Ultimate Team ricevono bonus permanenti alle valutazioni durante la stagione ogni volta che le rispettive controparti reali si mettono in luce nei loro nuovi club.
FIFA 19 Ultimate Team – Ones to Watch, formazione titolare
Cristiano Ronaldo, Juventus, 94
Gonzalo Higuain, AC Milan, 88
Radja Nainggolan, FC Inter, 85
Alisson, Liverpool, 85
Riyad Mahrez, Manchester City, 85
Sokratis, Arsenal, 84
Jorginho, Chelsea, 84
Joao Cancelo, 84, Juventus
Naby Keita, Liverpool, 83
Leon Goretzka, Bayern Monaco, 83
Quincy Promes, Spartak Mosca, 83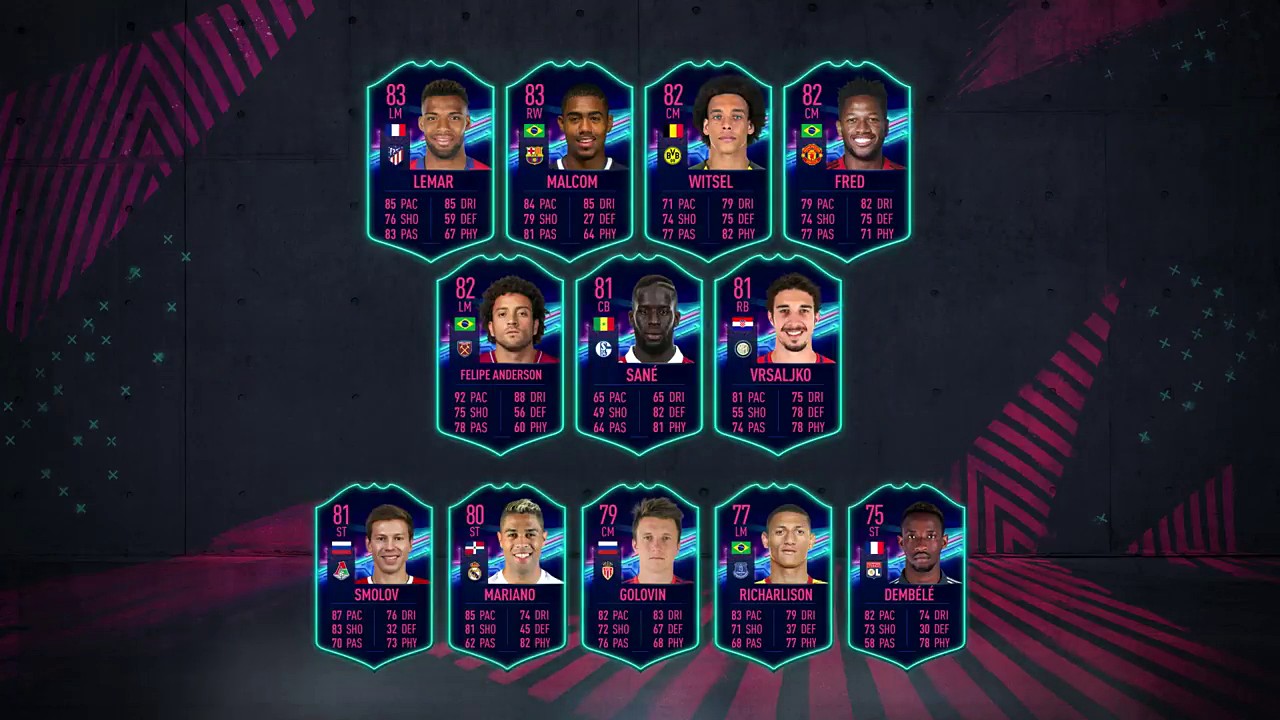 FIFA 19 Ultimate Team – Ones to Watch, panchina
Thomas Lemar, Atletico Madrid, 83
Malcom, Barcellona, 83
Alex Witsel, Borussia Dortmund, 82
Fred, Manchester United, 82
Felipe Anderson, West Ham, 82
Salif Sané, Schalke 04, 81
Sime Vrsaljko, FC Inter, 81
FIFA 19 Ultimate Team – Ones to Watch, riserve
Fyodor Smolov, Lokomotiv Mosca, 81
Mariano, Real Madrid, 80
Aleksandr Golovin, Monaco, 79
Richarlison, Everton, 77
Moussa Dembelé, Lione, 75
FIFA 19 è disponibile dal 28 settembre su PC, PlayStation 4, Xbox One e Nintendo Switch. Sapete già chi sono i dieci giocatori più forti di questa stagione?
Video:FIFA 20: trailer di annuncio ufficiale – E3 2019