Rare: nuova collana su Xbox Live Arcade?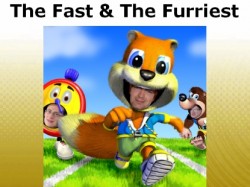 Rare potrebbe essere al lavoro per portare su Xbox Live Arcade una nhiva collana di mini giochi sportivi. L'indiscrezione arriva dal blog Xbox 360 Fanboy, secondo cui una fonte interna di Microsoft Game Studios si sarebbe lasciata sfuggire qualche dettaglio sul progetto.
La collana dovrebbe intitolarsi The Fast & The Furriest, e supportare pienamente la webcam Xbox Live Vision sia per controlli in stile Eye-Toy/PlayStation Eye (comunque facoltativi) che per digitalizzare il proprio volto e trasportarlo sui personaggi del gioco.
Non ci sono ancora dettagli precisi su prezzi, data di uscita e soprattutto su quali sport verranno contemplati.
[via Xbox360 Fanboy]