God of War: Chains of Olympus entra in gold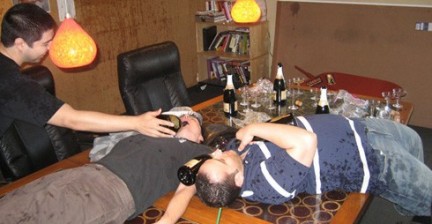 Ready at Dawn ha ufficialmente annunciato l'entrata in fase gold di God of War: Chains of Olympus, atteso titolo per PSP che porterà Kratos anche sullo schermo della console portatile Sony. L'uscita è stata fissata per il prossimo 4 marzo, addirittura in anticipo rispetto a quella già annunciata in occasione della presentazione della copertina del gioco.
Oltre alla notizia relativa all'uscita del titolo, il team di sviluppo ha pubblicato le foto scattate durante la baldoria che ha avuto luogo alla fine dei lavori: dando un'occhiata soprattutto a quella riportata in cima a questo post, sembra quasi che non vedessero proprio l'ora di finire lo sviluppo di Chains of Olympus, che voci di corridoio hanno avvicinato di recente anche alla PS2.
[via Joystiq]