Classifica di vendita italiana mensile PC e console – ottobre 2012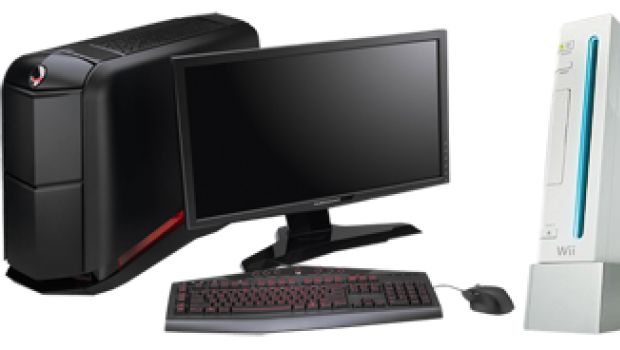 Classifica di vendita italiana mensile PC e console relative al mese di ottobre 2012.

Nell decimo appuntamento annuale con le classifiche di vendita italiane mensili condotte da GfK per conto di AESVI, vediamo come FIFA 13 detiene il dominio assoluto sia su console che su PC. I secondi posti rispecchiano invece quanto visto nella recente classifica settimanale, con Assassin's Creed III al secondo posto su console e Football Manager 2013 su PC. In ogni caso, tre titoli a tema calcistico nelle prime 2 posizioni delle 2 classifiche principali ci ricordano senz'altro che siamo in Italia!
Top 10 Console
1 FIFA 13 PS3 ELECTRONIC ARTS
2 ASSASSIN'S CREED III D1 VERSION PS3 UBISOFT
3 FIFA 13 X-BOX 360 ELECTRONIC ARTS
4 PRO EVOLUTION SOCCER 2013 PS3 KONAMI
5 JUST DANCE 4 D1 VERSION WII UBISOFT
6 POKEMON VERSIONE NERA 2 DS NINTENDO
7 RESIDENT EVIL 6 PS3 CAPCOM
8 ASSASSIN'S CREED III D1 VERSION X-BOX 360 UBISOFT
9 ASSASSIN'S CREED III COLLECTOR'S EDITION PS3 UBISOFT
10 POKEMON VERSIONE BIANCA 2 DS NINTENDO
Top 10 PC
1 FIFA 13 PC ELECTRONIC ARTS
2 FOOTBALL MANAGER 2013 PC SEGA
3 PRO EVOLUTION SOCCER 2013 PC KONAMI
4 WORLD OF WARCRAFT PRE PAID CARD 2 MESI PC ACTIVISION BLIZZARD
5 GUILD WARS 2 PC NCSOFT
6 WORLD OF WARCRAFT MISTS OF PANDARIA PC ACTIVISION BLIZZARD
7 FARMING SIMULATOR 2013 PC FOCUS HOME
8 WORLD OF WARCRAFT BATTLECHEST PC ACTIVISION BLIZZARD
9 THE SIMS 3 SUPERNATARAL LIMITED EDITION PC ELECTRONIC ARTS
10 DISHONORED PC BETHESDA SOFT
Continua dopo la pausa con le classifiche per singola console.
Top 10 3DS
1 NEW SUPER MARIO BROS 2 NINTENDO
2 PROFESSOR LAYTON E LA MASCHERA DEI MIRACOLI NINTENDO
3 MARIO KART 7 NINTENDO
4 SUPER MARIO 3D LAND NINTENDO
5 FIFA 13 ELECTRONIC ARTS
6 SKYLANDERS SPYRO'S ADVENTURE STARTER PACK ACTIVISION BLIZZARD
7 SUPER POKEMON RUMBLE NINTENDO
8 ANGRY BIRDS TRILOGY ACTIVISION BLIZZARD
9 MARIO & SONIC AI GIOCHI OLIMPICI DI LONDRA 2012 SEGA
10 L'ERA GLACIALE 4 CONTINENTI ALLA DERIVA GIOCHI POLARI ACTIVISION BLIZZARD
Top 10 DS
1 POKEMON VERSIONE NERA 2 NINTENDO
2 POKEMON VERSIONE BIANCA 2 NINTENDO
3 INAZUMA ELEVEN 2 FIRESTORM NINTENDO
4 INAZUMA ELEVEN 2 BLIZZARD NINTENDO
5 NEW SUPER MARIO BROS NINTENDO
6 L'ERA GLACIALE 4 CONTINENTI ALLA DERIVA GIOCHI POLARI ACTIVISION BLIZZARD
7 MY SIMS SKYHEROES ELECTRONIC ARTS
8 IMPARA CON POKEMON AVVENTURA TRA I TASTI BUNDLE NINTENDO
9 RIBELLE THE BRAVE IL VIDEOGIOCO DISNEY INTERACTIVE STUDIOS
10 MARIO KART NINTENDO
Top 10 PS2
1 FIFA 13 ELECTRONIC ARTS
2 PRO EVOLUTION SOCCER 2013 KONAMI
3 GTA GRAND THEFT AUTO SAN ANDREAS PLATINUM ROCKSTAR GAMES
4 NEED FOR SPEED MOST WANTED ELECTRONIC ARTS
5 BLACK ELECTRONIC ARTS
6 LA BUSSOLA D'ORO SEGA
7 MEDAL OF HONOR VANGUARD ELECTRONIC ARTS
8 GRAND THEFT AUTO VICE CITY STORIES ROCKSTAR GAMES
9 IL PADRINO ELECTRONIC ARTS
10 FIFA STREET 2 ELECTRONIC ARTS
Top 10 PS3
1 FIFA 13 ELECTRONIC ARTS
2 ASSASSIN'S CREED III D1 VERSION UBISOFT
3 PRO EVOLUTION SOCCER 2013 KONAMI
4 RESIDENT EVIL 6 CAPCOM
5 ASSASSIN'S CREED III COLLECTOR'S EDITION UBISOFT
6 MEDAL OF HONOR WARFIGHTER LIMITED EDITION ELECTRONIC ARTS
7 RESIDENT EVIL 6 STEEL TIN CAPCOM
8 DISHONORED BETHESDA SOFTWARE
9 NBA 2K13 2K GAMES
10 F1 2012 CODEMASTERS
Top 10 PSP
1 FIFA 13 ELECTRONIC ARTS
2 GRAN TURISMO ESSENTIALS SONY
3 PRO EVOLUTION SOCCER 2013 KONAMI
4 DRAGON BALL Z SHIN BUDOKAI 2 ESSENTIALS BANDAI
5 ASSASSIN'S CREED II BLOODLINES UBISOFT
6 ASSASSIN'S CREED II BLOODLINES ESSENTIALS UBISOFT
7 MEDIEVIL RESURRECTION ESSENTIALS SONY
8 FIFA STREET 2 PLATINUM ELECTRONIC ARTS
9 RATCHET & CLANK L'ALTEZZA NON CONTA ESSENTIALS SONY
10 ATV OFFROAD FURY PRO ESSENTIALS SONY
Top 10 PS Vita
1 FIFA 13 ELECTRONIC ARTS
2 ASSASSIN'S CREED III LIBERATION UBISOFT
3 LITTLEBIGPLANET SONY
4 NEED FOR SPEED MOST WANTED LIMITED EDITION ELECTRONIC ARTS
5 UNCHARTED L'ABISSO D'ORO SONY
6 WRC 3 FIA WORLD RALLY CHAMPIONSHIP BLACK BEAN
7 STREET FIGHTER X TEKKEN CAPCOM
8 MODNATION RACERS ROADTRIP SONY
9 FIFA FOOTBALL ELECTRONIC ARTS
10 ASPHALT INJECTION UBISOFT
Top 10 WII
1 JUST DANCE 4 D1 VERSION UBISOFT
2 INAZUMA ELEVEN STRIKERS NINTENDO
3 FIFA 13 ELECTRONIC ARTS
4 SKYLANDERS SPYRO'S ADVENTURE STARTER PACK ACTIVISION BLIZZARD
5 SKYLANDERS GIANT STARTER PACK ACTIVISION BLIZZARD
6 ZUMBA FITNESS 2 + BELT 505 GAMES
7 JUST DANCE 4 UBISOFT
8 SKYLANDERS BOOSTER PACK ACTIVISION BLIZZARD
9 NEW SUPER MARIO BROS NINTENDO
10 SUPER MARIO GALAXY SELECTS NINTENDO
Top 10 X-BOX 360
1 FIFA 13 ELECTRONIC ARTS
2 ASSASSIN'S CREED III D1 VERSION UBISOFT
3 ASSASSIN'S CREED III COLLECTOR'S EDITION UBISOFT
4 PRO EVOLUTION SOCCER 2013 KONAMI
5 RESIDENT EVIL 6 CAPCOM
6 MEDAL OF HONOR WARFIGHTER LIMITED EDITION ELECTRONIC ARTS
7 DISHONORED BETHESDA SOFTWARE
8 RESIDENT EVIL 6 STEEL TIN CAPCOM
9 FORZA HORIZON MICROSOFT
10 NBA 2K13 2K GAMES