Famitsu stila la classifica Top 25 del 2007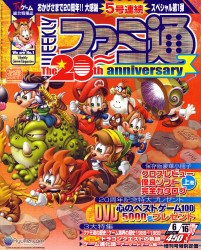 Con qualche settimana di ritardo, la celebre e controversa rivista nipponica Famitsu ha stilato la sua personale classifica dei 25 giochi migliori del 2007, basandosi sui voti assegnati in fase di recensione.
Nintendo domina assicurandosi il primo e terzo posto rispettivamente con The Legend of Zelda: Phantom Hourglass e Super Mario Galaxy. Bene anche Oblivion e Call of Duty 4.
1. Zelda no Densetsu: Mugen no Sunadokei (Phantom Hourglass) NDS Nintendo 39
2. The Elder Scrolls IV: Oblivion X360 Spike 38
3. Super Mario Galaxy Wii Nintendo 38
4. GTA San Andreas PS2 Capcom 38
5. Call of Duty 4 X360 Activision 37
6. Call of Duty 4 PS3 Activision 37
7. Minna no Golf Portable 2 PSP Sony 37
8. God of War 2 PS2 Sony 37
9. Halo 3 X360 Microsoft 37
10. World Soccer Winning Eleven 2008 PS3 Konami 36
11. World Soccer Winning Eleven 2008 X360 Konami 36
12. Kousoku Card Battle: Card Hero NDS Nintendo 36
13. Yuusha no Kuse ni Namaikida PSP Sony 36
14. Uncharted: El Dorado no Hihou PS3 Sony 36
15. Lost Odyssey X360 Mistwalker 36
16. Assassin's Creed X360 Ubisoft 36
17. Ace Combat 6 X360 Bandai Namco 36
18. Ratchet & Clank Future: Tools of Destruction PS3 Sony 36
19. Minna no Golf 5 (Everybody's Golf 5) PS3 Sony 36
20. Ghost Recon Advanced Warfighter 2 X360 Ubisoft 36
21. Itadaki Street DS NDS Square Enix 36
22. Forza Motorsport 2 X360 Microsoft 36
23. Tom Clancy's Rainbow Six Vegas X360 Ubisoft 36
24. Gyakuten Saiban 4 NDS Capcom 36
25. Final Fantasy IV NDS Square Enix 35
[via Multiplayer.it]