I titoli Epic Games entrano nel catalogo Steam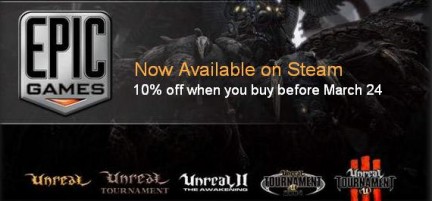 Epic Games, team di sviluppo della serie Unreal, ha annunciato insieme a Steam l'inserimento dei propri titoli nel catalogo della popolare piattaforma di digital delivery, che va dunque ad arricchirsi ulteriormente di titoli di spessore.
Gabe Newell, presidente di Valve, si è dichiarato entusiasta dell'operazione, citando inoltre Epic come sviluppatore di alcuni dei suoi videogiochi preferiti di sempre, dicendosi onorato di avere l'occasione di lavorarvi a stretto contatto.
I primi titoli Epic inseriti all'interno del catalogo sono Unreal Gold, Unreal II: The Awakening, Unreal Tournament: Game of the Year Edition, Unreal Tournament 2004: Editor's Choice Edition ed Unreal Tournament 3, mentre per festeggiare l'avvenimento fino al prossimo 24 marzo tutti i giochi saranno venduti con uno sconto del 10%.
[via Shacknews]