Svelata la trama di 50 Cent: Blood on the Sand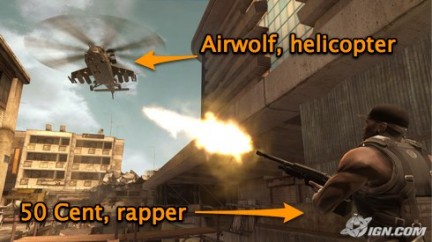 Il nuovo gioco di 50 Cent, seguito di uno fra i più brutti prodotti della storia videoludica, si chiamerà 50 Cent Blood on the Sand. Ne avevamo già parlato pochi giorni fa, ma nella giornata di ieri IGN ha rivelato la trama del gioco, che ricordiamo essere un action in terza persona. Tenetevi forte.
50 Cent si esibisce in una località non meglio precisata del medio oriente dilaniata dalla guerra, ma a fine concerto non viene pagato. Il nerboruto rapper minaccia il promoter, che spaventato decide di ricompensarlo con un teschio incastonato di diamanti (...), che però gli viene rubato poco dopo durante un'imboscata. A questo punto 50 Cent si imbufalisce e decide di rintracciare e spazzare via dalla faccia della terra questi ladri.
Tutto ciò è talmente ridicolo che non c'è nemmeno bisogno di farci una battuta sopra.
[via Joystiq, IGN]