Steam Autumn Sale, ultimo giorno - Modern Warfare 3 e Counter-Strike al 50%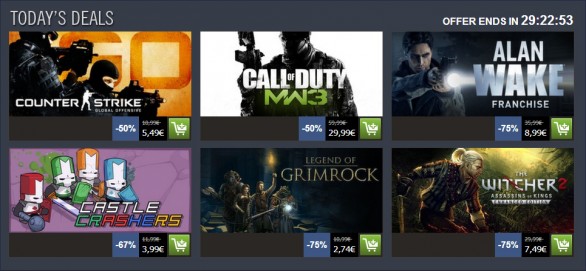 Nel sesto e ultimo giorno della svendita autunnale di Steam troviamo due FPS radicalmente differenti. Il primo è Call of Duty: Modern Warfare 3, l'ultima fatica degli Infinity Ward in tema di guerriglia moderna (che alla fine non è poi così distante da Black Ops II), che cerca di spremere il suo ultimo potenziale d'acquisto con uno sconto del 50% (29,99€).
Dall'altro lato abbiamo Counter-Strike: Global Offensive, nuovo capitolo di un FPS seminale che però risulta più adatto a un gameplay meno frenetico e più casual. Il prezzo è decisamente più basso: con lo sconto del 50% arriviamo a quota 5,49€. Continua dopo la pausa.
Tra le altre offerte interessanti troviamo The Witcher 2: Assassins of Kings Enhanced Edition e tutto il franchise di Alan Wake entrambi tagliati del 75% e a meno di 10€. Seguono poi Legend of Grimrock, Castel Crashers, e poi nelle Flash Sales The Testament of Sherlock Holmes, Bastion, Just Cause 2, Super Street Fighter IV Arcade Edition, Red Faction Collection e The Binding of Isaac, tutti scontati tra il 50% e il 75%.
Ricordiamo che i titoli della Flash Sales si avvicendano a ritmi differenti da quelli in rilievo, che invece potranno essere acquistati anche domani.