World of Warcraft - The Burning Crusade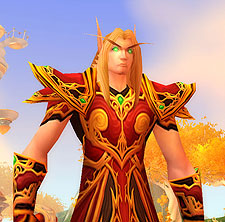 In questi giorni stanno spuntando molte indiscrezioni sull'espansione di WoW, che verrà presentata ufficialmente a giorni alla Blizzcon.
Continuate a leggere per molte notizie, indiscrezioni e voci di corridoio incontrollate.

- Il nome quasi certamente sarà The Burning Crusade. Blizzard ha infatti registrato questo titolo il 3 maggio del 2005.

- Secondo alcuni, il gioco uscirà a maggio 2006.

- Il level-cap sarà alzato al livello 75. Dovrebbero anche essere implementate le classi eroiche, precedentemente previste in una patch futura.

- Due nuove razze: gli Elfi del Sangue (Orda) e i Draenei (Alleanza).

- Una nuova classe, lo SpellBreaker: sembra un guerriero con magie di difesa e una grossa resistenza agli incantesimi nemici.

Molto altro, lo trovate qui. Nella pagina di Wikipedia ci sono inoltre molte speculazioni sull'argomento.