E3 2012 Game Critics Awards: svelate le nomination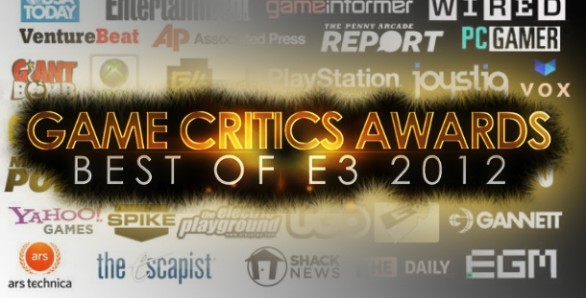 Come ogni anno, anche stavolta i redattori delle testate videoludiche più importanti del globo hanno stilato la lista dei titoli più in vista dell'ultima edizione dell'Electronic Entertainment Expo di Los Angeles, la manifestazione del settore meglio conosciuta col suo acronimo di E3.Tra i titoli più apprezzati della fiera e, quindi, tra i più ricorrenti nelle
Come ogni anno, anche stavolta i redattori delle testate videoludiche più importanti del globo hanno stilato la lista dei titoli più in vista dell'ultima edizione dell'Electronic Entertainment Expo di Los Angeles, la manifestazione del settore meglio conosciuta col suo acronimo di E3.
Tra i titoli più apprezzati della fiera e, quindi, tra i più ricorrenti nelle nomination delle rispettive categorie, troviamo The Last of Us, Dishonored, Borderlands 2, Halo 4, Assassin's Creed III e Tomb Raider. Nell'infinita guerra tra i giganti dell'hardware e le multinazionali del software, invece, a spuntarla in questa prima fase è Sony con 12 candidature, seguita a ruota da Microsoft ed EA a 8, da Nintendo a 7 e da Bethesda a 6.
I vincitori dei Game Critics Awards dell'E3 2012 verranno annunciati il 26 giugno prossimo: nel frattempo, seguiteci dopo la pausa per sfogliare la lista al completo delle nomination e, ovviamente, per indicarci tra i commenti i vostri titoli preferiti. Prima di lasciarvi, però, un ultimo appunto: l'assenza di Watch Dogs è giustificata dal regolamento che vieta ai giornalisti di indicare un titolo presentato solamente in video e, quindi, sprovvisto di demo giocabile in fiera.
Best of Show
– Assassin's Creed III (Ubisoft Montreal/Ubisoft for PC, PS3, Xbox 360)
– Dishonored (Arkane Studios/Bethesda Softworks for PC, PS3, Xbox 360)
– Halo 4 (343 Industries/Microsoft Studios for Xbox 360)
– The Last of Us (Naughty Dog/SCEA for PlayStation 3)
– Tomb Raider (Crystal Dynamics/Square Enix for PC, PS3, Xbox 360)
Best Original Game
– Beyond: Two Souls (Quantic Dream/SCEE for PlayStation 3)
– Dishonored (Arkane Studios/Bethesda Softworks for PC, PS3, Xbox 360)
– Quantum Connundrum (Airtight Game/Square Enix for PC, PS3, Xbox 360)
– The Last of Us (Naughty Dog/SCEA for PlayStation 3)
– Unfinished Swan (Giant Sparrow/SCEA for PlayStation 3)
Best Console Game
– Assassin's Creed III (Ubisoft Montreal/Ubisoft for PS3, Xbox 360)
– Dishonored (Arkane Studios/Bethesda Softworks for PS3, Xbox 360)
– Halo 4 (343 Industries/Microsoft Studios for Xbox 360)
– The Last of Us (Naughty Dog/SCEA for PlayStation 3)
– Tomb Raider (Crystal Dynamics/Square-Enix for PS3, Xbox 360)
Best Handheld/Mobile Game
– Assassin's Creed III Liberation (Ubisoft Sofia/Ubisoft for PSVita)
– Epic Mickey: Power of Illusion (Dreamrift/Disney Interactive Studios for 3DS)
– Infinity Blade Dungeons (Epic Games/Epic Games for iOS)
– Luigi's Mansion: Dark Moon (Next Level Games/Nintendo for 3DS)
– New Super Mario Bros. 2 (Nintendo EAD/Nintendo for 3DS)
– Sound Shapes (Queasy Games/SCEA for PSVita)
Best PC Game
– Company of Heroes 2 (Relic/THQ for PC)
– Hawken (Adhesive Games/Meteor Entertainment for PC)
– PlanetSide 2 (Sony Online Entertainment/Sony Online Entertainment for PC)
– SimCity (Maxis/EA for PC)
– X-Com: Enemy Unknown (Firaxis Games/2K Games for PC)
Best Hardware/Peripheral
– Astro A50 Wireless Gaming Headset (Astro)
– Rift VR Headset (Palmer Lucky/John Carmack/id Software)
– Wii U (Nintendo)
– Wonderbook (Sony Computer Entertainment Europe)
– Skylanders: Giants Figures (Toys for Bob/Activision)
Best Action Game
– Borderlands 2 (Gearbox/2K Games for PC, PS3, Xbox 360)
– Call of Duty: Black Ops II (Treyarch/Activision for PC, PS3, Xbox 360)
– Crysis 3 (Crytek/EA for PC, PS3, Xbox 360)
– Halo 4 (343 Industries/Microsoft Studios for Xbox 360)
– Metal Gear Rising: Revengence (Platinum Games/Kojima Pro/Konami for PS3, Xbox 360)
Best Action/Adventure Game
– Assassin's Creed III (Ubisoft Montreal/Ubisoft for PC, PS3, Wii U, Xbox 360)
– Beyond: Two Souls (Quantic Dream/SCEE for PlayStation 3)
– Dishonored (Arkane Studios/Bethesda Softworks for PC, PS3, Xbox 360)
– The Last of Us (Naughty Dog/SCEA for PlayStation 3)
– Tomb Raider (Crystal Dynamics/Square Enix for PC, PS3, Xbox 360)
Best Role Playing Game
– Kingdom Hearts: Dream Drop Distance (Square Enix/Square Enix for 3DS)
– Ni No Kuni (Level-5/Namco Bandai for PlayStation 3)
– Persona 4 Golden (Atlus/Atlus for PSVita)
– The Elder Scrolls V: Skyrim – Dawnguard (BGS/Bethesda for PC, PS3, Xbox 360)
– South Park: The Stick of Truth (Obsidian Entertainment/THQ for PC, PS3, Xbox 360)
Best Fighting Game
– Dead or Alive 5 (Team Ninja/Tecmo Koei for PS3, Xbox 360)
– Injustice: Gods Among Us (NetherRealm Studios/WBIE for PS3, Xbox 360, Wii U)
– Persona 4 Arena (Arc System Works/Atlus for PS3, Xbox 360)
– PlayStation All-Stars: Battle Royale (SuperBot/SCEA for PlayStation 3, PSVita)
– Tekken Tag Tournament 2 (Namco Bandai Games/Namco Bandai Games for PS3, Xbox 360)
Best Racing Game
– F1 2012 (Codemasters/Codemasters for PC, PS3, Xbox 360)
– Forza Horizon (Playground Games/Turn 10 Studios/Microsoft Studios for Xbox 360)
– LittleBigPlanet Karting (United Front Games/Media Molecule/SCEA for PS3)
– Need for Speed Most Wanted (Criterion Games/EA for PC, PS3, Xbox 360)
– Sonic & All Stars Racing Transformed (Sumo/Sega for PC, PS3, Xbox 360, PS Vita, 3DS)
Best Sports Game
– FIFA Soccer 13 (EA Canada/EA Sports for PC, PS3, Xbox 360)
– Madden NFL 13 (EA Tiburon/EA Sports for PS3, Xbox 360)
– NBA 2K13 (Visual Concepts/2K Sports for PS3, Xbox 360)
– NHL 13 (EA Canada/EA Sports for PC, PS3, Xbox 360)
– Pro Evolution Soccer 2013 (PES Productions/Konami for PC, PS3, Wii, Xbox 360, 3DS)
Best Strategy Game
– Company of Heroes 2 (Relic/THQ for PC)
– End of Nations (Petroglyph Games/Trion Worlds for PC)
– SimCity (Maxis/EA for PC)
– Pikmin 3 (Nintendo EAD/Nintendo for Wii U)
– XCOM: Enemy Unknown (Firaxis Games/2K Games for PC, PS3, Xbox 360)
Best Social/Casual Game
– Dance Central 3 (Harmonix/Microsoft Studios for Xbox 360)
– Game & Wario (working title) (Intelligent Systems/Nintendo for Wii U)
– Lego Batman 2: DC Super Heroes (TT/WBIE for PC, PS3, PSVita, X360, Wii, 3DS)
– Nintendoland (Nintendo/Nintendo for Wii U)
– Rock Band Blitz (Harmonix for PlayStation 3, Xbox 360)
Best Motion Simulation Game
– Dance Central 3 (Harmonix/Microsoft Studios for Xbox 360)
– Fable: The Journey (Lionhead/Microsoft Studios for Xbox 360)
– Game & Wario (working title) (Intelligent Systems/Nintendo for Wii U)
– Just Dance 4 (Ubisoft/Ubisoft for PS3, Xbox 360, Wii, and Wii U)
– Wii Fit U (Nintendo/Nintendo for Wii U)
– Wonderbook: Books of Spells (London Studio/SCEE for PlayStation 3)
Best Online Multiplayer Game
– Borderlands 2 (Gearbox/2K Games for PC, PS3, Xbox 360)
– Call of Duty: Black Ops II (Treyarch/Activision for PC, PS3, Xbox 360)
– Halo 4 (343 Industries/Microsoft Studios for Xbox 360)
– Need for Speed Most Wanted (Criterion/EA for PC, PS3, PSVita, Xbox 360)
– PlanetSide 2 (Sony Online Entertainment/Sony Online Entertainment for PC)
Best Downloadable Game
– Hell Yeah! Wrath of the Dead Rabbit (Arkedo Studio/Sega for PC, PS3, Xbox 360)
– Quantum Conundrum (Airtight Games/Square Enix for PC, PS3, Xbox 360)
– Retro City Rampage (VBlank Entertainment for PC, PS3, PSVita, Xbox 360, Wii)
– The Cave (Double Fine/Sega for PC, PS3, Xbox 360)
– Unfinished Swan (Giant Sparrow/SCEA for PlayStation 3)