Age of Empires 3 Collector's Edition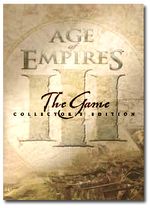 Post semi-surreale adatto per il weekend: ieri ero da Feltrinelli e ho visto l'edizione speciale di Age of Empires III. Ed è.. impressionante. Grossa, pesantissima (bisogna.. sollevarla!), piena di cose interessanti. La custodia del tutto è praticamente un corpo contundente, non avevo mai visto niente di simile. Sembra niente male, ma se dovete farvela regalare a Natale fate in modo che non venga maneggiata da persone anziane, che pesa più del mio Pc.
Ecco il contenuto:
Un fantastico libro cartonato di 210 pagine intitolato "The Art of Empires"
Un making-of del gioco in formato DVD Intitolato "Making of Age of Empires III" completo di video dietro le quinte e commenti alle immagini
La colonna sonora ufficiale del gioco in formato CD
Un enorme poster colorato (110 cm. x 70 cm.) di una concept art dipinta da Craig Mullins
Una esclusiva guida strategica al gioco intitolata "Age III Player's Guide"
Il manuale di gioco in versione Collector's Edition.