Classifiche di vendita settimanali in Italia dal 2 all'8 aprile 2012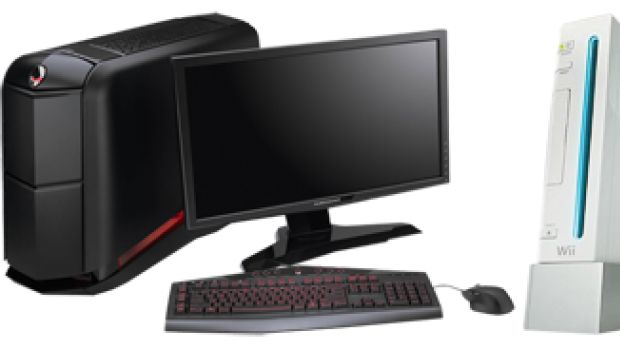 Le classifiche di vendita settimanali dal 2 all'8 aprile 2012 vedono Mario Party 9 in vetta.

Nuovo appuntamento con le classifiche di vendita italiane settimanali condotte da GfK per conto di AESVI. Mario Party 9 e Just Dance 3 dominano le prime posizioni della classifica console, mentre su PC, escludendo l'ormai onnipresente ricaricabile di WoW, troviamo Prince of Persia e le Sabbie Dimenticate al secondo posto.
Top 10 Console
1 MARIO PARTY 9 WII NINTENDO
2 JUST DANCE 3 WII UBISOFT
3 FIFA STREET PS3 ELECTRONIC ARTS
4 FIFA 12 PS3 ELECTRONIC ARTS
5 NARUTO SHIPPUDEN ULTIMATE NINJA STORM GENERATIONS PS3 NAMCO
6 POKEPARK 2 IL MONDO DEI DESIDERI WII NINTENDO
7 MARIO KART 7 3DS NINTENDO
8 KINECT STAR WARS X-BOX 360 LUCASARTS
9 WII PLAY MOTION + WII REMOTE PLUS WII NINTENDO
10 INAZUMA ELEVEN 2 FIRESTORM DS NINTENDO
Top 10 PC
1 WORLD OF WARCRAFT PRE PAID CARD 2 MESI PC ACTIVISION BLIZZARD
2 PRINCE OF PERSIA LE SABBIE DIMENTICATE EXCLUSIVE PC UBISOFT
3 THE SIMS 3 PC ELECTRONIC ARTS
4 FIFA 12 PC ELECTRONIC ARTS
5 SHOGUN 2 TOTAL WAR IL TRAMONTO DEL SAMURAI PC SEGA
6 CALL OF DUTY MODERN WARFARE 3 PC ACTIVISION BLIZZARD
7 X-PLANE 8 PREMIUM PC FX INTERACTIVE
8 FOOTBALL MANAGER 2012 PC SEGA
9 PRINCE OF PERSIA EXCLUSIVE PC UBISOFT
10 THE SIMS 3 SHOWTIME LIMITED EDITION PC ELECTRONIC ARTS
Continua dopo la pausa con le classifiche per piattaforma.
Top 10 3DS
1 MARIO KART 7 NINTENDO
2 SUPER MARIO 3D LAND NINTENDO
3 KID ICARUS UPRISING NINTENDO
4 MARIO & SONIC AI GIOCHI OLIMPICI DI LONDRA 2012 SEGA
5 SUPER POKEMON RUMBLE NINTENDO
6 ASPHALT 3D UBISOFT
7 FIFA 12 ELECTRONIC ARTS
8 SKYLANDERS SPYRO'S ADVENTURE STARTER PACK ACTIVISION BLIZZARD
9 CUBIC NINJA UBISOFT
10 COOKING MAMA 4 KITCHEN MAGIC 505 GAMES
Top 10 DS
1 INAZUMA ELEVEN 2 FIRESTORM NINTENDO
2 INAZUMA ELEVEN 2 BLIZZARD NINTENDO
3 NEW SUPER MARIO BROS NINTENDO
4 INAZUMA ELEVEN NINTENDO
5 MARIO KART NINTENDO
6 POKEMON BLACK NINTENDO
7 POKEMON WHITE NINTENDO
8 PROFESSOR LAYTON E IL RICHIAMO DELLO SPETTRO NINTENDO
9 MARIO PARTY NINTENDO
10 ART ACADEMY NINTENDO
Top 10 PS2
1 FIFA 12 ELECTRONIC ARTS
2 PRO EVOLUTION SOCCER 2012 KONAMI
3 GTA GRAND THEFT AUTO SAN ANDREAS PLATINUM ROCKSTAR GAMES
4 BLACK ELECTRONIC ARTS
5 FIFA STREET 2 ELECTRONIC ARTS
6 GRAND THEFT AUTO VICE CITY STORIES ROCKSTAR GAMES
7 NEED FOR SPEED UNDERCOVER ELECTRONIC ARTS
8 MEDAL OF HONOR VANGUARD ELECTRONIC ARTS
9 GRAND THEFT AUTO LIBERTY CITY STORIES ROCKSTAR GAMES
10 NEED FOR SPEED MOST WANTED ELECTRONIC ARTS
Top 10 PS3
1 FIFA STREET ELECTRONIC ARTS
2 FIFA 12 ELECTRONIC ARTS
3 NARUTO SHIPPUDEN ULTIMATE NINJA STORM GENERATIONS NAMCO
4 PRO EVOLUTION SOCCER 2012 KONAMI
5 CALL OF DUTY MODERN WARFARE 3 ACTIVISION BLIZZARD
6 RESIDENT EVIL OPERATION RACOON CITY CAPCOM
7 DEVIL MAY CRY HD COLLECTION CAPCOM
8 ASSASSIN'S CREED REVELATIONS UBISOFT
9 CARDS PSN 20 EURO UNCHARTED 3 SONY
10 BATTLEFIELD 3 ELECTRONIC ARTS
Top 10 PSP
1 FIFA 12 ELECTRONIC ARTS
2 ASSASSIN'S CREED II BLOODLINES UBISOFT
3 DRAGON BALL Z SHIN BUDOKAI 2 ESSENTIALS BANDAI
4 GRAN TURISMO ESSENTIALS SONY
5 PRO EVOLUTION SOCCER 2012 KONAMI
6 DRAGONBALL Z TENKAICHI TAG TEAM SPIKE
7 INVIZIMALS LE TRIBÙ SCOMPARSE + CAM SONY
8 CARS 2 SONY
9 RATCHET & CLANK L'ALTEZZA NON CONTA ESSENTIALS SONY
10 INVIZIMALS LE TRIBÙ SCOMPARSE SONY
Top 10 PS Vita
1 UNCHARTED L'ABISSO D'ORO SONY
2 FIFA FOOTBALL ELECTRONIC ARTS
3 UNIT 13 SONY
4 RAYMAN ORIGINS UBISOFT
5 ASPHALT INJECTION UBISOFT
6 WIPEOUT 2048 SONY
7 RIDGE RACER NAMCO
8 VIRTUA TENNIS 4 SEGA
9 LITTLE DEVIANTS SONY
10 ULTIMATE MARVEL VS CAPCOM 3 CAPCOM
Top 10 WII
1 MARIO PARTY 9 NINTENDO
2 JUST DANCE 3 UBISOFT
3 POKEPARK 2 IL MONDO DEI DESIDERI NINTENDO
4 WII PLAY MOTION + WII REMOTE PLUS NINTENDO
5 KIRBY'S ADVENTURE NINTENDO
6 ZUMBA FITNESS 2 + BELT 505 GAMES
7 MARIO & SONIC AI GIOCHI OLIMPICI LONDRA 2012 SEGA
8 SKYLANDERS SPYRO'S ADVENTURE STARTER PACK ACTIVISION BLIZZARD
9 NEW SUPER MARIO BROS NINTENDO
10 WII PARTY NINTENDO
Top 10 X-BOX 360
1 KINECT STAR WARS LUCASARTS
2 FIFA STREET ELECTRONIC ARTS
3 FIFA 12 ELECTRONIC ARTS
4 NARUTO SHIPPUDEN ULTIMATE NINJA STORM GENERATIONS NAMCO
5 PRO EVOLUTION SOCCER 2012 KONAMI
6 CALL OF DUTY MODERN WARFARE 3 ACTIVISION BLIZZARD
7 MASS EFFECT 3 ELECTRONIC ARTS
8 ASSASSIN'S CREED REVELATIONS UBISOFT
9 RESIDENT EVIL OPERATION RACOON CITY CAPCOM
10 DEVIL MAY CRY HD COLLECTION CAPCOM