Call of Duty 2 - Boicottaggio dei server?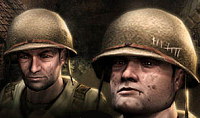 La comunità degli appassionati di quel capolavoro che risiede sotto il nome di Call of Duty 2 è ufficialmente in rotta con gli stessi sviluppatori (Infinity Ward) e sta organizzando un massiccio boicottaggio dei server di COD2. Cito dal forum ufficiale:
Chiediamo qui ed ora che Activision e/o Infinty Ward facciano un annuncio ufficiale per quanto riguarda il loro sostegno futuro alla serie CALL OF DUTY, entro e non oltre il 16 dicembre 2005.
La dichiarazione dovrebbe includere quanto segue:
1. Quando svilupperete un Sistema Anti-Cheat per COD2?

2. Quando rilascerete la 1° patch ufficiale per COD2?

3. Che cosa questa inlcuderà?

4. Quali sono i vostri piani per supportare la serie Call of Duty?

5. Cosa farete per assicurare che questa situazione non accada di nuovo?



L'ommissione di una di queste semplici richieste porterà alle seguenti conseguenze:
Noi incoraggiamo attivamente TUTTI i Clan, Leghe, Ladder, Giocatori, Amministratori e server provider a rispettare un "24hr mass server shutdowns" di tutti i giochi della serie Call Of Duty.
Non prendete leggermente questa azione: le voci corrono, la gente non comprerà più un giocattolo rotto.
Noi non saremo ignorati per molto.
Per l'intero articolo/richiesta: clicca qui.