Classifica di vendita italiana mensile PC e console – giugno 2011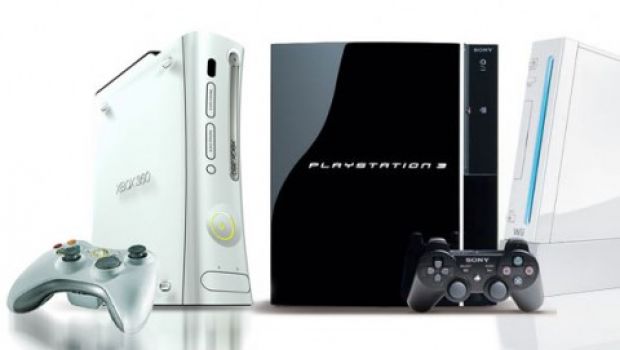 Classifica di vendita italiana mensile per i videogiochi PC e console – mese di giugno 2011

Eccoci al secondo appuntamento con le classifiche di vendita italiane mensili condotte da GfK per conto di AESVI. Il periodo preso in esame è quello che comprende l'intero mese di giugno.
Top 10 Console
1 POKEMON WHITE DS NINTENDO
2 POKEMON BLACK DS NINTENDO
3 WII FIT PLUS + BALANCE BOARD WII NINTENDO
4 INFAMOUS 2 PS3 SONY
5 WII PARTY WII NINTENDO
6 MARIO SPORTS MIX WII NINTENDO
7 JUST DANCE 2 WII UBISOFT
8 L.A. NOIRE PS3 ROCKSTAR GAMES
9 MARIO KART + WII WHEEL WII NINTENDO
10 ZUMBA FITNESS + BELT WII 505 GAMES
Top 10 PC
1 THE SIMS 3 GENERATIONS PC ELECTRONIC ARTS
2 WORLD OF WARCRAFT PRE PAID CARD 2 MESI PC ACTIVISION BLIZZARD
3 THE SIMS 3 PC ELECTRONIC ARTS
4 FOOTBALL MANAGER 2011 PC SEGA
5 THE WITCHER 2 ASSASSINS OF KINGS PC NAMCO
6 FIFA 11 PC ELECTRONIC ARTS
7 DUKE NUKEM FOREVER PC 2K GAMES
8 ASSASSIN'S CREED II PC UBISOFT
9 THE SIMS 3 OUTDOOR LIVING STUFF PC ELECTRONIC ARTS
10 THE SIMS 3 LATE NIGHT PC ELECTRONIC ARTS
Continua dopo la pausa con le Top 10 per piattaforma.
Top 10 3DS
1 LEGEND OF ZELDA OCARINA OF TIME NINTENDO
2 NINTENDOGS + GOLDEN RETRIEVER & NUOVI AMICI NINTENDO
3 THE SIMS 3 ELECTRONIC ARTS
4 PRO EVOLUTION SOCCER 2011 KONAMI
5 NINTENDOGS + BULLDOG FRANCESE & NUOVI AMICI NINTENDO
6 NINTENDOGS + BARBONCINI & NUOVI AMICI NINTENDO
7 PILOTWINGS RESORT NINTENDO
8 LEGO PIRATI DEI CARAIBI DISNEY INTERACTIVE STUDIOS
9 RABBIDS 3D UBISOFT
10 STEEL DIVER NINTENDO
Top 10 DS
1 POKEMON WHITE NINTENDO
2 POKEMON BLACK NINTENDO
3 ART ACADEMY NINTENDO
4 INAZUMA ELEVEN NINTENDO
5 NEW SUPER MARIO BROS NINTENDO
6 MARIO KART NINTENDO
7 FIFA 11 ELECTRONIC ARTS
8 CARS 2 DISNEY INTERACTIVE STUDIOS
9 LEGO PIRATI DEI CARAIBI DISNEY INTERACTIVE STUDIOS
10 GIULIA PASSIONE DOTTORESSA UBISOFT
Top 10 PS2
1 PRO EVOLUTION SOCCER 2011 KONAMI
2 FIFA 11 ELECTRONIC ARTS
3 GRAND THEFT AUTO SAN ANDREAS PLATINUM ROCKSTAR GAMES
4 NEED FOR SPEED MOST WANTED ELECTRONIC ARTS
5 BLACK ELECTRONIC ARTS
6 NEED FOR SPEED CARBON ELECTRONIC ARTS
7 MEDAL OF HONOR VANGUARD ELECTRONIC ARTS
8 IL PADRINO ELECTRONIC ARTS
9 FIFA STREET 2 ELECTRONIC ARTS
10 THE SIMS 2 ELECTRONIC ARTS
Top 10 PS3
1 INFAMOUS 2 SONY
2 L.A. NOIRE ROCKSTAR GAMES
3 CALL OF DUTY BLACK OPS ACTIVISION BLIZZARD
4 PRO EVOLUTION SOCCER 2011 KONAMI
5 GRAN TURISMO 5 SONY
6 FIFA 11 ELECTRONIC ARTS
7 ASSASSIN'S CREED BROTHERHOOD UBISOFT
8 KILLZONE 3 SONY
9 DIRT 3 CODEMASTERS
10 VIRTUA TENNIS 4 SEGA
Top 10 PSP
1 INVIZIMALS LE CREATURE OMBRA + CAM SONY
2 PRO EVOLUTION SOCCER 2011 KONAMI
3 FIFA 11 ELECTRONIC ARTS
4 RATCHET & CLANK L'ALTEZZA NON CONTA ESSENTIALS SONY
5 LEGO PIRATI DEI CARAIBI DISNEY INTERACTIVE STUDIOS
6 MEDIEVIL RESURRECTION ESSENTIALS SONY
7 ATV OFFROAD FURY PRO ESSENTIALS SONY
8 ASSASSIN'S CREED II BLOODLINES UBISOFT
9 ACE COMBAT X SKIES OF DECEPTION ESSENTIALS NAMCO
10 NEED FOR SPEED MOST WANTED PLATINUM ELECTRONIC ARTS
Top 10 WII
1 WII FIT PLUS + BALANCE BOARD NINTENDO
2 WII PARTY NINTENDO
3 MARIO SPORTS MIX NINTENDO
4 JUST DANCE 2 UBISOFT
5 MARIO KART + WII WHEEL NINTENDO
6 ZUMBA FITNESS + BELT 505 GAMES
7 NEW SUPER MARIO BROS NINTENDO
8 FIFA 11 ELECTRONIC ARTS
9 SUPER MARIO GALAXY 2 NINTENDO
10 DONKEY KONG COUNTRY RETURNS NINTENDO
Top 10 X-BOX 360
1 KINECT ADVENTURES + KINECT MICROSOFT
2 L.A. NOIRE ROCKSTAR GAMES
3 FIFA 11 ELECTRONIC ARTS
4 ASSASSIN'S CREED BROTHERHOOD UBISOFT
5 CALL OF DUTY BLACK OPS ACTIVISION BLIZZARD
6 NEED FOR SPEED SHIFT ELECTRONIC ARTS
7 KINECT SPORTS MICROSOFT
8 DIRT 3 CODEMASTERS
9 PRO EVOLUTION SOCCER 2011 KONAMI
10 DUKE NUKEM FOREVER 2K GAMES