Classifiche di vendita italiane console e PC dal 30 maggio al 5 giugno 2011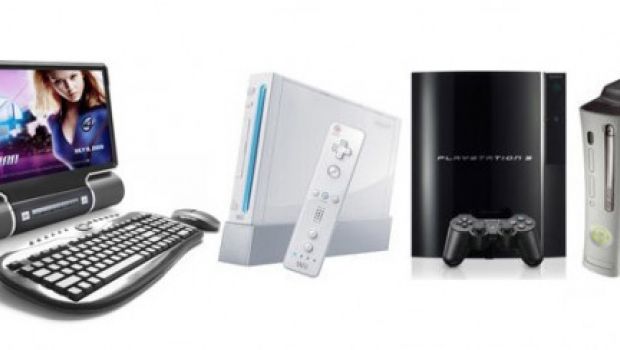 Wii Fit e The Sims in vetta alle due principali classifiche

Eccoci al consueto appuntamento con le classifiche di vendita italiane settimanali condotte da GfK per conto di AESVI. In cima alla classifica console torna Wii Fit Plus dopo un paio di settimane di dominio incontrastato per L.A. Noire. Su PC, Geralt Da Rivia con il suo The Witcher 2 cede la vetta a The Sims 3 Generations.
Top 10 Console
1 WII FIT PLUS + BALANCE BOARD WII NINTENDO
2 L.A. NOIRE PS3 ROCKSTAR GAMES
3 POKEMON WHITE DS NINTENDO
4 MARIO KART + WII WHEEL WII NINTENDO
5 POKEMON BLACK DS NINTENDO
6 JUST DANCE 2 WII UBISOFT
7 WII PARTY WII NINTENDO
8 NEW SUPER MARIO BROS WII NINTENDO
9 KINECT ADVENTURES + KINECT X-BOX 360 MICROSOFT
10 L.A. NOIRE X-BOX 360 ROCKSTAR GAMES
Top 10 PC
1 THE SIMS 3 GENERATIONS PC ELECTRONIC ARTS
2 WORLD OF WARCRAFT PRE PAID CARD 2 MESI PC ACTIVISION BLIZZARD
3 THE WITCHER 2 ASSASSINS OF KINGS PC NAMCO
4 FOOTBALL MANAGER 2011 PC SEGA
5 THE SIMS 3 PC ELECTRONIC ARTS
6 FIFA 11 PC ELECTRONIC ARTS
7 FABLE III PC MICROSOFT
8 GTA 4 GRAND THEFT AUTO PC ROCKSTAR GAMES
9 PRO EVOLUTION SOCCER 2011 PC KONAMI
10 THE SIMS 3 OUTDOOR LIVING STUFF PC ELECTRONIC ARTS
Continua dopo la pausa con le Top 10 per piattaforma.
Top 10 3DS
1 NINTENDOGS + GOLDEN RETRIEVER & NUOVI AMICI NINTENDO
2 PRO EVOLUTION SOCCER 2011 KONAMI
3 LEGO PIRATI DEI CARAIBI DISNEY INTERACTIVE STUDIOS
4 NINTENDOGS + BULLDOG FRANCESE & NUOVI AMICI NINTENDO
5 STEEL DIVER NINTENDO
6 PILOTWINGS RESORT NINTENDO
7 NINTENDOGS + BARBONCINI & NUOVI AMICI NINTENDO
8 DEAD OR ALIVE DIMENTIONS TECMO
9 RABBIDS 3D UBISOFT
10 RAYMAN 3D UBISOFT
Top 10 DS
1 POKEMON WHITE NINTENDO
2 POKEMON BLACK NINTENDO
3 INAZUMA ELEVEN NINTENDO
4 NEW SUPER MARIO BROS NINTENDO
5 ART ACADEMY NINTENDO
6 FIFA 11 ELECTRONIC ARTS
7 LEGO PIRATI DEI CARAIBI DISNEY INTERACTIVE STUDIOS
8 MARIO KART NINTENDO
9 GIULIA PASSIONE DOTTORESSA UBISOFT
10 IL MIO CUCCIOLO ALLEGRI DELFINI 505 GAMES
Top 10 PS2
1 PRO EVOLUTION SOCCER 2011 KONAMI
2 FIFA 11 ELECTRONIC ARTS
3 NEED FOR SPEED MOST WANTED ELECTRONIC ARTS
4 BLACK ELECTRONIC ARTS
5 GRAND THEFT AUTO SAN ANDREAS PLATINUM ROCKSTAR GAMES
6 NEED FOR SPEED CARBON ELECTRONIC ARTS
7 MEDAL OF HONOR VANGUARD ELECTRONIC ARTS
8 IL PADRINO ELECTRONIC ARTS
9 FIFA STREET 2 ELECTRONIC ARTS
10 THE SIMS 2 ELECTRONIC ARTS
Top 10 PS3
1 L.A. NOIRE ROCKSTAR GAMES
2 DIRT 3 CODEMASTERS
3 PRO EVOLUTION SOCCER 2011 KONAMI
4 FIFA 11 ELECTRONIC ARTS
5 KILLZONE 3 SONY
6 CALL OF DUTY BLACK OPS ACTIVISION BLIZZARD
7 VIRTUA TENNIS 4 SEGA
8 GRAN TURISMO 5 SONY
9 ASSASSIN'S CREED BROTHERHOOD UBISOFT
10 HUNTED THE DEMON'S FORGE BETHESDA SOFTWORKS
Top 10 PSP
1 INVIZIMALS LE CREATURE OMBRA + CAM SONY
2 PRO EVOLUTION SOCCER 2011 KONAMI
3 FIFA 11 ELECTRONIC ARTS
4 LEGO PIRATI DEI CARAIBI DISNEY INTERACTIVE STUDIOS
5 RATCHET & CLANK L'ALTEZZA NON CONTA ESSENTIALS SONY
6 ATV OFFROAD FURY PRO ESSENTIALS SONY
7 MEDIEVIL RESURRECTION ESSENTIALS SONY
8 GOD OF WAR GHOST OF SPARTA SONY
9 NEED FOR SPEED MOST WANTED PLATINUM ELECTRONIC ARTS
10 NEED FOR SPEED CARBON OWN THE CITY PLATINUM ELECTRONIC ARTS
Top 10 WII
1 WII FIT PLUS + BALANCE BOARD NINTENDO
2 MARIO KART + WII WHEEL NINTENDO
3 JUST DANCE 2 UBISOFT
4 WII PARTY NINTENDO
5 NEW SUPER MARIO BROS NINTENDO
6 MARIO SPORTS MIX NINTENDO
7 FIFA 11 ELECTRONIC ARTS
8 LEGO PIRATI DEI CARAIBI DISNEY INTERACTIVE STUDIOS
9 SUPER MARIO GALAXY 2 NINTENDO
10 DONKEY KONG COUNTRY RETURNS NINTENDO
Top 10 X-BOX 360
1 KINECT ADVENTURES + KINECT MICROSOFT
2 L.A. NOIRE ROCKSTAR GAMES
3 DIRT 3 CODEMASTERS
4 FIFA 11 ELECTRONIC ARTS
5 NEED FOR SPEED SHIFT ELECTRONIC ARTS
6 KINECT SPORTS MICROSOFT
7 PRO EVOLUTION SOCCER 2011 KONAMI
8 HUNTED THE DEMON'S FORGE BETHESDA SOFTWORKS
9 ASSASSIN'S CREED BROTHERHOOD UBISOFT
10 CALL OF DUTY BLACK OPS ACTIVISION BLIZZARD