Stubbs the Zombie - Demo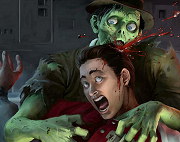 Ogni tanto capita di trovare qualcosa di inatteso e sorprendente: ecco a voi una demo giocabile( ~231MB) di Stubbs the Zombie in Rebel without a Pulse, che vi permettera di provare uno strano horror-action game in terza persona sviluppato da Wideload Games. Il demo contiene un solo livello, degli alloggi vicino ad una diga. Avete (abbiamo) sempre pensato gli zombie come nemici, gli abbiamo sparato, dato fuoco, spezzettati e adesso... adesso li impersoneremo!!!
L'idea è molto carina: si passa dall'altra parte della barricata e si prova la vita del vero zombie... aspetto i vostri commenti.