Call of Duty: World at War & Left 4 Dead - i requisiti hardware PC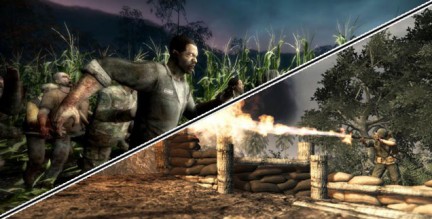 Treyarch e Valve hanno diffuso i rispettivi requisiti minimi di sistema per le versioni PC di Call of Duty: World at War e Left 4 Dead, due fra gli sparatutto in soggettiva più attesi dei prossimi mesi.
Call of Duty: World at War, in uscita il 14 novembre anche su X360 e PS3, è ambientato nella zona pacifica della seconda guerra mondiale, e punta a consolidare lo status ormai quasi leggendario della serie a cui appartiene.
Left 4 Dead, gioco nuovo di zecca in uscita il 21 novembre anche per 360, è invece uno sparatutto con spiccata natura cooperativa dove i giocatori dovranno affrontare orde di zombie famelici in ambienti urbani.
I requisiti dopo la pausa.
Call of Duty: World at War - requisiti minimi

Processore: AMD 64 3200+/Intel Pentium 4 3.0GHz o superiore


Memoria: 8 GB di spazio a disposizione su disco rigido, 512MB RAM (Windows XP)/1GB RAM (Windows Vista)


Scheda video: Shader 3.0 o superiore, 256MB Nvidia GeForce 6600GT/ATI Radeon 1600XT o superiore
Left 4 Dead - requisiti minimi

Processore: 3.0 GHz P4, Dual Core 2.0 o AMD64X2 (o superiori)


Memoria: 1GB per XP, 2GB per Vista


Disco: almeno 7,5Gb di spazio


Scheda video: Direct X 9 compatibile con almeno 256MB di RAM e compatibilità pixel shader 2.0