AC/DC Live: Rock Band avrà i propri obiettivi sbloccabili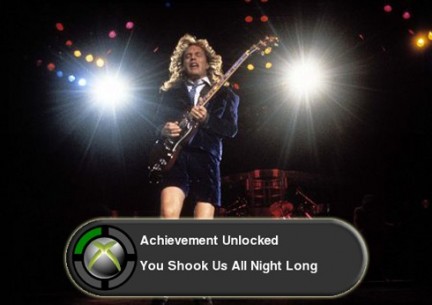 AC/DC Live: Rock Band potrà vantare propri obiettivi sbloccabili sia su Xbox 360 che su PlayStation 3. La cosa non sorprende, visto che più che di un pacchetto aggiuntivo stiamo parlando di una sorta di spin-off a sé stante che verrà commercializzato su DVD e Blu-ray.
La conferma è arrivata direttamente dagli sviluppatori Harmonix: «Ci saranno obiettivi sbloccabili e trofei unici per il pacchetto degli AC/DC Track Pack, e molti di questi saranno specifici per le nuove canzoni».
AC/DC Live: Rock Band conterrà tutte le 18 tracce dell'album AC/DC: Live at Donington e verrà proposto ad un prezzo di 39,90€ per le versioni PS3, X360 e Wii, mentre 29,90€ per PS2. Nel caso delle console delle console HD sarà anche possibile importare le canzoni su Rock Band che su Rock Band 2.
L'uscita di AC/DC Live: Rock Band è prevista per fine dicembre in Europa (a quel tempo, se Dio vuole, sarà già disponibile anche Rock Band 2). Dopo la pausa, l'elenco completo delle tracce.
Elenco canzoni:
* "Thunderstruck"
* "Shoot to Thrill"
* "Back in Black"
* "Hell Ain't a Bad Place to Be"
* "Heatseeker"
* "Fire Your Guns"
* "Jailbreak"
* "The Jack"
* "Dirty Deeds Done Dirt Cheap"
* "Moneytalks"
* "Hells Bells"
* "High Voltage"
* "Whole Lotta Rosie"
* "You Shook Me All Night Long"
* "T.N.T."
* "Highway To Hell"
* "For Those About to Rock (We Salute You)"
* "Let There be Rock"