Dungeons & Dragons Online - Prenotazione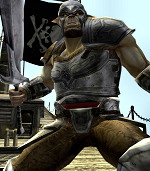 Turbine ha rilasciato una press release annunciando che il tanto atteso Dungeons and Dragons Online è andato in "gold". Il fantasy MMORPG basato sul famoso RPG carta-e-penna dovrebbe essere sugli scafali dei nostri negozianti di fiducia il 28 Febbraio 2006.
I Fans che pre-ordineranno la loro copia di DUNGEONS & DRAGONS ONLINE: Stormreach riceveranno un exclusive access al gioco, limitato ai soli primi giorni seguenti il rilascio ufficiale, un pass di 10 giorni al free Beta Test per iniziare a familiarizzare con il gioco (ndr, ricordo che la Beta si chiuderà il 20 Febbraio!) e uno speciale poster in edizione limitata, raffigurante un dragone rosso.

Agli utenti, che avranno fratto la prenotazione, sarà regalato (in-game, ovviamente!) un amuleto +1 Difesa ed un Ring of Haggling che vi farà ottenere piccoli sconti dai vendors NPC!