PlayStation Store: le novità di giovedì 17 dicembre – arriva la demo di Gran Turismo 5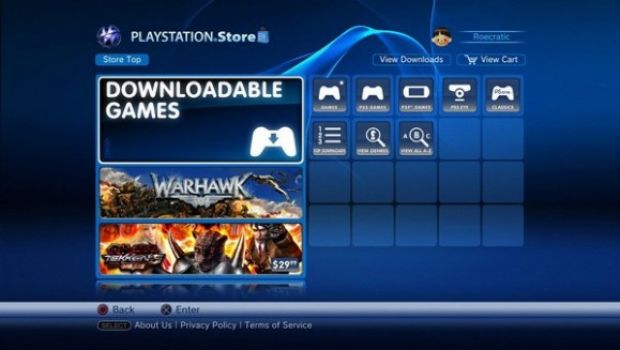 Ecco a voi i contenuti che verranno pubblicati entro ora di cena sul PlayStation Store. Questo giovedì è particolarmente ricco di novità succose, fra le quali è inutile dire che spicca la demo dell'attesissimo Gran Turismo 5 (già disponibile poiché nella giornata di oggi era previsto un doppio aggiornamento scaglionato) e l'apertura del concorso GT

Ecco a voi i contenuti che verranno pubblicati entro ora di cena sul PlayStation Store. Questo giovedì è particolarmente ricco di novità succose, fra le quali è inutile dire che spicca la demo dell'attesissimo Gran Turismo 5 (già disponibile poiché nella giornata di oggi era previsto un doppio aggiornamento scaglionato) e l'apertura del concorso GT Academy 2010. Da segnalare anche molte offerte speciali e la demo di Army Of Two: The 40th Day.
Demo giocabili:
Gran Turismo 5 Time Trial Challenge
GT Academy 2010 Time Trial
Army Of Two: The 40th Day
Metal Gear Solid: Peace Walker (PSP)
Giochi completi PS3/PSOne:
Blue Toad Murder Files™ Episode 1 (€7.99)
Blue Toad Murder Files™ Bundle (Episodes 1 & 2) (€12.99)
Braid (€9.99)
Star Trek D-A-C (€7.99)
Continua dopo la pausa.
Offerte speciali fino al 7 gennaio:
Gran Turismo 5 Prologue (was – £19.99/€29.99 now – £14.99/€19.99)
Burn Zombie Burn! (was – £6.29/€7.99 now – £3.19/€3.99)
Bomberman Ultra (was – £7.99/€9.99 now – £3.99/€4.99)
Battlefield 1943 (was – £9.99/€12.99 now – £6.29/€7.99)
Red Alert 3: Commander's Challenge (was – £7.99/€9.99 now – £5.19/€6.49)
High Velocity Bowling (was – £6.29/€7.99 now – £3.99/€4.99)
Lemmings (was – £3.99/€7.99 now – £3.19/€3.99)
3 on 3 NHL Arcade (was – £6.29/€7.99 now – £3.19/€3.99)
Burnout Paradise (was – £24.99/€29.99 now – £13.99/€17.99)
Burnout Paradise – Big Surf Bundle (was – £27.99/€34.99 now – £19.99/€24.99)
Fight Night Round 4 – Champions Pack (was – £3.99/€4.99 now – £2.39/€2.99)
Skate 2 – Maloof Money Cup Pack (was – £1.59/€1.99 now – £1.19/€1.49)
Skate 2 – Time is Money Pack (was – £3.19/€3.99 now – £2.39/€2.99)
Skate 2 – Filmer Pack (was – £4.79/€5.99 now – £3.19/€3.99)
Skate 2 – Dyrdek's Fantasy Plaza Pack (was – £3.19/€3.99 now – £2.39/€2.99)
Skate 2 – San Van Classic Pack (was – £3.19/€3.99 now – £2.39/€2.99)
Dead Space – Scorpion Pack (was – £3.19/€3.99 now – £2.39/€2.99)
Dead Space – Obsidian Pack (was – £3.19/€3.99 now – £2.39/€2.99)
Dead Space – Military Pack (was – £3.19/€3.99 now – £2.39/€2.99)
Dead Space – Tank Pack (was – £3.19/€3.99 now – £2.39/€2.99)
The Godfather 2 – The Corleone Bundle (was – £7.99/€9.99 now – £4.79/€5.99)
Burnout Dominator (PSP) (was – £17.99/€24.99 now – £11.99/€19.99)
Burnout Legends (PSP) (was – £14.99/€19.99 now – £11.99/€14.99)
Def Jam Fight for New York: The Takeover (PSP) (was – £15.99/€19.99 now – £7.99/€9.99)
EA Replay (PSP) (was – £15.99/€19.99 now – £7.99/€9.99)
Crash Team Racing (PSone Classic) (was – £3.99/€4.99 now – £2.39/€2.99)
Kula World (PSone Classic) (was – £3.99/€4.99 now – £2.39/€2.99)
Riduzioni di prezzo permanenti:
Puzzle Quest: Challenge of the Warlords ROTPL (was – £15.99/€19.99 now – £7.99/€9.99)
Puzzle Quest Galactix (was – £15.99/€19.99 now – £7.99/€9.99)
Texas Cheat'em Poker (was – £9.99/€12.99 now – £7.99/€9.99)
The Cube (PSP) (was – £15.99/€19.99 now – £2.39/€2.99)
Dead Head Fred (PSP) (was – £14.99/€19.99 now – £2.39/€2.99)
Practical IQ (PSP) (was – £15.99/€19.99 now – £2.39/€2.99)
Puzzle Quest: Challenge of the Warlords (PSP) (was – £15.99/€19.99 now – £4.79/€5.99)
Super Pocket Tennis (PSP) (was – £7.99/€9.99 now – £4.79/€5.99)
minis (emulated for PS3/PSP)
Pachisi (£2.49/€2.99) Rating: PEGI 3
Route 66 (£3.49/€3.95) Rating: PEGI 3
I seguenti minis sono stati resi compatibili con PS3:
* Alien Havoc
* Beam 'Em Up
* Blast Off
* Bloons
* Brainpipe
* Breakquest
* Bubble Trubble
* Circles, Circles, Circles
* D-Cube Planet
* Dracula – Undead Awakening
* Dynogems
* Echoes
* Fieldrunners
* Fortix
* Funky Punch
* Heracles Chariot Racing
* Hero Of Sparta
* Kahoots
* Let's Golf
* Mahjongg Artifacts: Chapter 2
* Pinball Dreams
* Pinball Fantasies
* Puzzle Scape Mini
* Red Bull X-Fighters
* Spot The Differences!
* Stand O' Food
* Sudoku
* Telegraph Crosswords
* Vempire
* Yetisports Pengu Throw
* Yummy Yummy Cooking Jam
* Zombie Tycoon
Contenuti aggiuntivi:
* Blue Toad Murder Files™ Episode 2 (£6.29/€7.99) Rating: PEGI 7
* Brutal Legend – Hammer of Infinite Fate Pack (£3.99/€4.99) Rating: PEGI 18
* NBA Live 10 – Holiday Shoe Update (Free) Rating: PEGI 3
* PAIN – Kato-San Character (Free)
* Red Jimmy Character (£0.79/€0.99)
* Buzz! – US Sports Quiz (£3.99/€4.99) Rating: PEGI 3
* Rock Band
o Christian's Inferno by Green Day(£0.99/€1.49)
o Last Of The American Girls by Green Day (£0.99/€1.49)
o Viva La Gloria by Green Day (£0.99/€1.49)
o Green Day Pack 02 (includes the three tracks above) (£2.49/€3.99)
o Gives You Hell by All-American Rejects (£0.99/€1.49)
o Kings And Queens by 30 Seconds To Mars (£0.99/€1.49)
o This Is War by 30 Seconds To Mars (£0.99/€1.49)
* Rock Band: The Beatles
o Girl (£0.99/€1.49)
o In My Life (£0.99/€1.49)
o Michelle (£0.99/€1.49)
o Norwegian Wood (This Bird Has Flown) (£0.99/€1.49)
o Nowhere Man (£0.99/€1.49)
o Run For Your Life (£0.99/€1.49)
o The Word (£0.99/€1.49)
o Think For Yourself (£0.99/€1.49)
o Wait (£0.99/€1.49)
o What Goes On (£0.99/€1.49)
o You Won't See Me (£0.99/€1.49)
o Rubber Soul (Album) (£9.19/€11.25)
* Guitar Hero 5
o Cut Your Hair By Pavement (£1.59/€1.99)
o Hi-Speed Soul By Nada Surf (£1.59/€1.99)
o Sister Jack by Spoon (£1.59/€1.99)
o Indie Rock Track Pack (includes the three tracks above) (£4.39/€5.49)
Video:
* Aliens vs Predator Alien Reveal Trailer
* Aliens vs Predator Marine Reveal Trailer
* Assassin's Creed 2 Short Movie 02
* Assassin's Creed 2 Short Movie 03
* Battlefield: Bad Company 2 Limited Edition Trailer
* Blue Toad Murder Files Launch Trailer
* Blue Toad Murder Files Teaser Trailer 2
* Dante's Inferno Heresy Trailer
* Inferno Pool Endurance Trailer
* Inferno Pool Nominations Trailer
* Inferno Pool Skill Shots Trailer
* Inferno Pool Swerve Tutorial
* Polar Panic Features Trailer
* Polar Panic Gameplay Trailer
* Hustle Kings Trailer
* PixelJunk Shooter Trailer
* Ratchet & Clank: A Crack in Time Time Trailer
* Just Cause 2 No Ordinary Mission Trailer
* Just Cause 2 The Grapple Mini Documentary
* R.U.S.E. Pump Fake Strategy Trailer
Temi (gratis):
* Battlefield: Bad Company 2 Theme
* Digger Theme
Wallpapers (gratis)
* Dante's Inferno Heresy Wallpaper
Giochi completi (PSP):
* Buzz! Quiz World (£16.99/€26.99) Rating: PEGI 12
* The Sims 2 (£15.99/€19.99) Rating: PEGI 12
* Warriors Orochi 2 (£23.99/€29.99)Rating: PEGI 16
* MAWASKES (£15.99/€19.99) Rating: PEGI 3