PlayStation Store: le novità di giovedì 19 marzo - Silent Hill compare dalla nebbia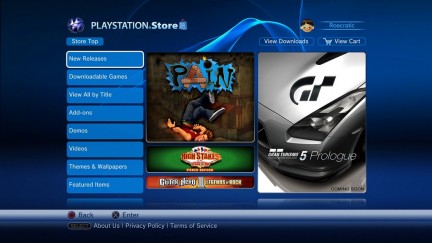 In questo giovedì avaro di demo ma ricco di giochi interi ha fatto la sua comparsa, con una certa sopresa di tutti il porting di Silent Hill per PlayStation 3. Non è il rifacimento che tutti stanno aspettando, ma sicuramente è graditissimo: 297MB di nebbia paura vecchio stile.
Da segnalare anche SOCOM Confrontation, Resistance Retribution e Splinter Cell Essentials. Ci chiediamo però quando verrà introdotta la buona pratica di rilasciare la versione demo di tutti i giochi "arcade", cosa che su Xbox Live accade da sempre.
Giochi Interi:
PowerUp Forever (€7,99) -PS3
SOCOM Confrontation (€29,99) - PS3
Silent Hill (€4,99) - PSOne, compatibile anche PSP
Everybody's Golf (€19,99) - PSP
Ratchet & Clank: Size Matters (€19,99) - PSP
Resistance Retribution (€39,99) - PSP
SOCOM Fireteam Bravo (€19,99) - PSP
Spinout (€9,99) - PSP
Splinter Cell Essentials (€19,99) - PSP
Twisted Metal: Head-On (€19,99) - PSP
Continua dopo la pausa.
Contenuti aggiuntivi:
Call of Duty: World at War Map Pack 1 (€8,99)
FIFA 09 Ultimate Team (free)
Guitar Hero World Tour
○ European Track Pack 04 (€5,49 | €1,99)
♪ "What Have You Done" by Within Temptation
♪ "Hier Kommt Alex" by Die Toten Hosen
♪ "Carolina" by M-Clan
○ Jimi Hendrix Track Pack 02 (€5,49)
♪ "Freedom"
♪ "Angel"
♪ "Foxey Lady (Live)"
High Velocity Bowling - Jill (free)
LittleBigPlanet Killzone 2 Costume Pack (€2,99)
Midnight Club Los Angeles
○ South Central Map Expansion (free) (1486 MB)
○ South Central Premium Upgrade (€9,99)
Rock Band
♪ "Thrash Unreal" - Against Me! (€1,49)
♪ "All the Things That Go to Make Heaven and Earth" - The New Pornographers (€1,49)
♪ "Use It" - The New Pornographers (€1,49)
♪ "Last Resort" - Papa Roach (€1,49)
♪ "Lifeline" - Papa Roach (€1,49)
○ "Get the Funk Out 01" pack (€3,99 | €1,49)
♪ "Pick Up the Pieces" - Average White Band
♪ "Shining Star" - Earth Wind & Fire
♪ "Get Up (I Feel Like Being a) Sex Machine - Pt 1" - James Brown
Street Fighter IV - Shadaloo Pack (€3,99)
Video:
FIFA 09
○ Ultimate Team Tutorial
○ Ultimate Team Trailer
○ Ultimate Team Teaser
God of War III - Launch Trailer
Midnight Club Los Angeles - South Central Trailer
Sfondi e temi:
Crash Commando - wallpaper
FIFA 09 - tema
MotorStorm Pacific Rift - temi