PlayStation Store: le novità di giovedì 12 novembre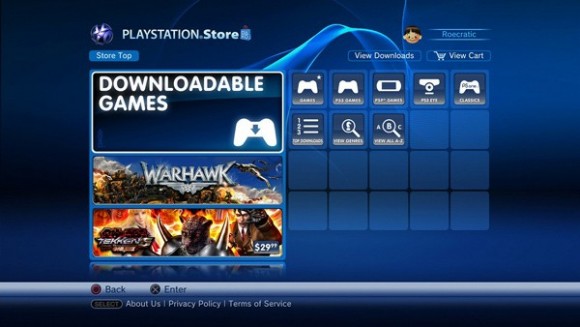 Ecco a voi i contenuti che verranno pubblicati entro ora di cena sul PlayStation Store. Per quanto riguarda PS3 si tratta di una delle settimane più povere nella stora dello Store, con nessun gioco completo o demo pubblicato. Fortunatamente ci pensa PSP a tenere alta la bandiera.
Giochi completi PSP:
Street Fighter Alpha Max 3 (€17.99)
Major League Baseball 2K9 (€14.99)
Mana Khemia: Student Alliance (€24.99)
Demo PSP:
Jax and Daxter: The Lost Frontier
Continua dopo la pausa.
Contenuti aggiuntivi:
Burnout Paradise - Big Surf Bundle (Burnout Paradise full game and Big Surf Island pack) (€34.99)
Buzz! – Euro Sports Quiz (€4.99)
Pain
o Fat Princess Pack (free)
o Speed Oocher Pack (£1.59/€1.99)
EyePet – Lucky Dip Styling Pack 4 (free)
Rag Doll Kung Fu: Fists of Plastic -
o Virtuosa del Mimo (free)
o Spaventapasseri Shaolin (free)
Guitar Hero 5
o Fly Away by Lenny Kravitz (€1.99)
o Lady by Lenny Kravitz (€1.99)
o Let Love Rule by Lenny Kravitz (€1.99)
o Lenny Kravitz Track Pack (€5.49)
Rock Band
o A Day Like This – SpongeBob SquarePants (€0.79)
o Club Foot by Kasabian (€1.49)
o Dead Leaves and the Dirty Ground by White Stripes (€1.49)
o Employee of the Month – SpongeBob SquarePants (€0.79)
o Girl, You Have No Faith in Medicine by White Stripes (€1.49)
o Icky Thump by White Stripes (€1.49)
o Ridin' the Hook – SpongeBob SquarePants (€0.79)
o Smash It Up (Parte II) by The Damned (€1.49)
o White Stripes Pack 01 (this pack contains the three White Stripes tracks above) (€3.99)
Video (gratis):
* Avatar Dev Diary 2
* Dante's Inferno Anger Dev Diary
* Ratchet & Clank: A Spasso nel Tempo Launch Trailer
* Just Cause 2 Island of Panua Mini Doc 2
Temi Premium:
* Wise Father Theme (€1.49)
* Yuefeng Theme (€1.49)
* King Zumo Theme (€1.49)
* Cavalier Warrior Theme (€1.49)