Majin: The Fallen Realm - nuova carrellata di immagini da Namco Bandai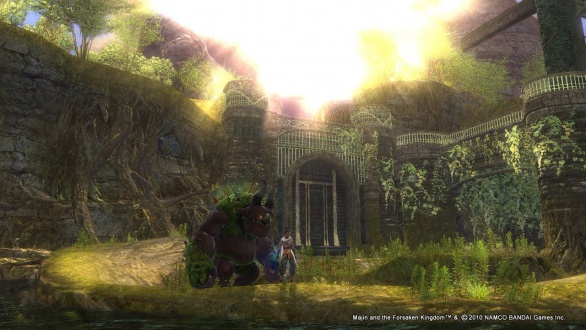 Per la gioia di molti (di chi vi scrive per primo), Namco Bandai ha rilasciato ben 40 immagini del tutto inedite relative a Majin: The Fallen Realm, titolo in sviluppo presso i Game Republic. Il materiale in questione è ovviamente accessibile dopo il solito salto.
Da queste nuove, bellissime immagini emerge ancora di più lo spirito di questo progetto. Paesaggi sognanti immersi in un'atmosfera evocativa come poche, simile a quanto visto in titoli come ICO e Shadow of the Colossus. Il nostro rimando a quelle perle non è casuale, anche se Majin appare indubbiamente meno cupo rispetto ai due titoli del Team ICO.
Dopo un ottimo ma poco apprezzato Folklore, deponiamo una discreta fiducia in Game Republic. Vero è che, come sempre, un libro non vada giudicato dalla sua copertina, ma con tutto il materiale mostrato fino ad ora sono riusciti ad accendere più che una semplice fiammella. Speriamo di avere conferme più precise riguardo l'uscita, attualmente prevista solo in Giappone entro il 2010 su Xbox 360 e PS3.
Majin: The Fallen Realm - nuove immagini