Call of Duty: Ghosts, la lista completa delle armi in una leak
L'elenco completo e una galleria quasi esaustiva di tutte le armi dell'imminente shooter di Infinity Ward da una leak su Twitter.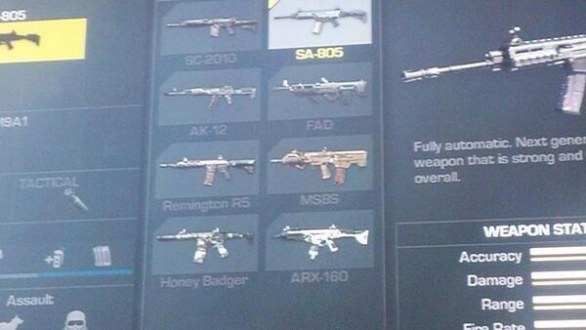 A solo qualche ora di distanza dalla leak sulla modalità Estinzione, Call of Duty: Ghosts torna a far parlare di se con un altro set di informazioni non ufficiali questa volte legate alla lista completa delle armi da fuoco contenute nel gioco.
La leak è partita da Twitter, dove sono apparse una serie di immagini in bassa qualità (che trovate nella galleria qui in basso) relative a tutti i sottogruppi di armamenti tranne uno: abbiamo i fucili d'assalto, le mitragliatrici leggere, i mitra, fucili classici, fucili da cecchino e da marksmen, di cui abbiamo però solo l'elenco testuale. Ecco gli scatti e poi subito dopo l'elenco completo delle armi:

Assault Rifles:
SC-2010
SA0-805
AK-12
FAD
Remington R5
MSBS
Honey Badger
ARX-160

LMGs:
Ameli
M27-IAR
LSAT
Chain SAW

SMGs:
Bizon
CBJ-MS
Vector CRB
Vepr
K7
MTAR-X

Shotguns:
Bulldog
FP6
MTS-255
Tac 12

Sniper Rifles:
USR
L1155
Lynx
VKS

Marksman Rifles:
IA2
Mk 14 EBR
MR-28
SVU Dragunov
Come già accennato in apertura questa leak segue quella relativa a Extinction, un rimaneggiamento della vecchia modalità Zombie che farà da contorno alla campagna a singolo giocatore e il multiplayer classico in cui ci troveremo ad abbattere orde di alieni "provenienti dallo spazio profondo (o dalle viscere della Terra)".
Call of Duty: Ghosts arriverà tra poco più di una settimana (5 novembre) su PC, PlayStation 3, Xbox 360 e Wii U. Poi toccherà il 22 novembre per l'edizione Xbox One e infine il 29 novembre per PlayStation 4.
Via | MP1st