Tales from the Borderlands: Fiona e Rhys nelle prime immagini di gioco
Ecco le primissime immagini di gioco della nuova avventura grafica di Telltale Games ambientata nell'universo sparatutto di Borderlands
Ritorniamo con immenso piacere ad occuparci di Tales from the Borderlands per condividere con voi le primissime immagini di gioco di questa attesa avventura grafica targata Telltale Games.
Le scene immortalate in questi scatti si focalizzano sulle figure di Fiona e Rhys, la truffatrice con la parlantina e l'operatore della Hyperion con un braccio bionico che si alterneranno nel ruolo di personaggio giocabile per illustrare gli eventi vissuti da Zer0, da Jack il Bello e dai Cacciatori della Cripta negli anni immediatamente successivi alla fine del secondo capitolo di Borderlands 2.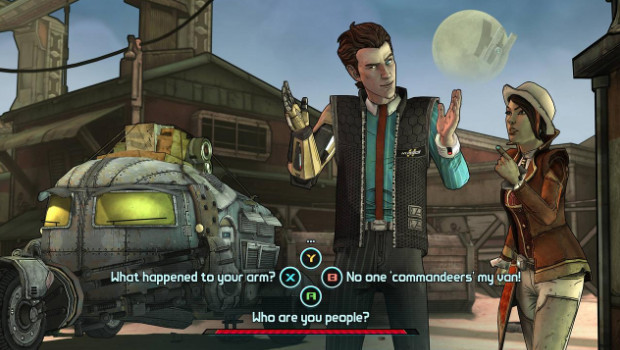 Il titolo, com'è noto, sarà proposto in forma episodica e adotterà il medesimo linguaggio narrativo e videoludico di The Walking Dead e The Wolf Among Us, il tutto condito dall'umorismo nero e dai frenetici scontri a fuoco (in questo caso scriptati) che caratterizzano da sempre l'universo sci-fi di questa serie. La storia di Fiona e di Rhys evolverà in base alle scelte che compiremo in sede di dialogo e negli altrettanto importanti eventi quick-time che coinvolgeranno i due protagonisti nel corso della trama.
Il primo episodio di Tales from the Borderlands arriverà su PC, Mac OS, Linux, tablet, smartphone e console tra la fine dell'estate e l'inizio dell'autunno. Già che ci siamo, ricordiamo a chi ci segue che il nuovo capitolo "ufficiale" della saga, Borderlands: The Pre-Sequel, sarà invece disponibile a fine anno su PC, Xbox 360 e PlayStation 3.
Non dimenticate di scaricare la Blogo App, per essere sempre aggiornati sui nostri contenuti. E' disponibile su App Store e su Google Play ed è gratuita.