The Legend of Korra: ecco il primo video di gioco
Il nuovo, adrenalinico action di Platinum Games si mostra per la prima volta in video
Volati a San Diego per presenziare all'ultima edizione del Comic-Con, i vertici di Platinum Games hanno permesso agli spettatori della rinomata fiera multisettore californiana di ammirare le primissime scene di gioco di The Legend of Korra, l'action/adventure a cui stanno lavorando sotto l'egida di Activision per ampliare l'affascinante universo dell'omonimo cartone animato statunitense (ma con fortissimi ed evidenti influssi artistici dell'animazione giapponese) trasmesso da Nickelodeon e giunto oramai alla sua terza stagione.
Realizzato con la stretta collaborazione dei creatori della serie televisiva Michael DiMartino e Bryan Konietzko, The Legend of Korra andrà a riallacciarsi agli eventi conclusivi della seconda stagione per costituire un episodio a se stante incentrato, ancora una volta, sulla figura di Korra e sul viaggio che ha deciso di intraprendere per conoscere i segreti delle arti marziali e delle tecniche di combattimento basate sui Domini dell'Acqua, del Fuoco, della Terra e dell'Aria.
Guarda le prime immagini di gioco di The Legend of Korra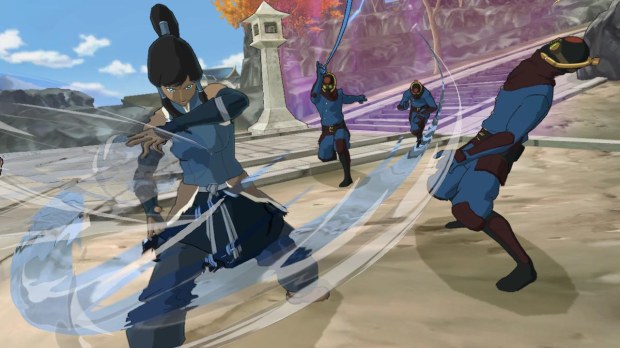 Leggi anche - Mad World, Bayonetta, Metal Gear Rising, The Wonderful 101 nel video promozionale di Platinum Games
Coniugando lo stile artistico del cartone animato all'esperienza acquisita dai Platinum con Mad World, Bayonetta, Metal Gear Rising Revengeance e The Wonderful 101, gli sviluppatori dello storico team di Osaka contano di proporci un action in terza persona incredibilmente adenalinico e ricco di abilità, di mosse, di combo e di attacchi speciali da sbloccare nel prosieguo della storia, così come possiamo intuire osservando il gameplay trailer odierno.
La commercializzazione di The Legend of Korra dovrebbe avvenire alla fine dell'anno: come ogni buon titolo cross-gen che si rispetti, il titolo sarà disponibile su PC, PlayStation 3, Xbox 360, PlayStation 4 e Xbox One. Su tutte le piattaforme, il progetto non avrà alcuna versione pacchettizzata poiché sarà proposto solo ed esclusivamente in digital delivery.
Approfondisci - Bayonetta: la recensione